Palm leaves bring the feel of a tropical environment indoors. Their size and shape make them a good choice for tropical floral arrangements or for a stand-alone foliage display without flowers. Keep cut palm leaves green by protecting them and providing them with nutrients. Even though the foliage is cut, it remains sensitive to temperature and requires food and water to stay green. According to the tradition of floriography, the language of flowers, palm leaves signify victory and success.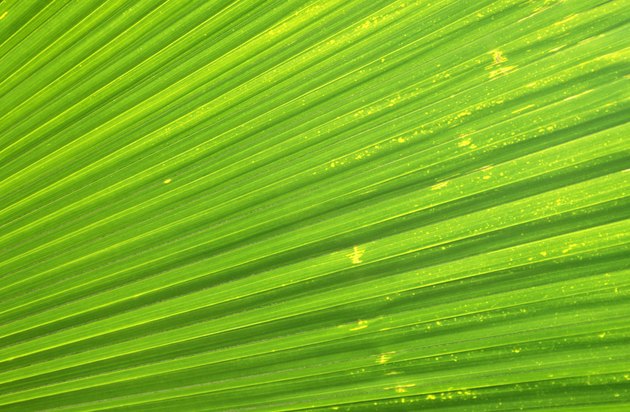 credit:
Goodshoot/Goodshoot/Getty Images
Step 1
Sanitize the vase or other container with diluted bleach (a teaspoon of bleach is enough). Rinse well. This reduces the risk of bacteria.
Step 2
Mix cut-flower food (floral preservative) with warm filtered water according to the package instructions. Pour this mixture in the vase for the palm leaves. This provides nutrients and will help keep the palm leaves green.
Step 3
Cut or purchase palm leaves in the morning. The palm has water throughout its leaves before the heat of the day causes dehydration in its fronds. Use a sharp knife or pruning shears to prevent damage to the stems. Rinse the palm leaves to clean them and prevent insects from coming indoors on them.
Step 4
Cut the palm leaf stems under warm water to preserve maximum hydration. Cut each stem at a 45-degree angle. The palm stem will rest on its point in the vase, leaving as much cut surface as possible open to take in water.
Step 5
Place the palm leaf arrangement in a cool location. Keep it out of drafts, direct sunlight and away from heating vents. Selecting a cool, protected location will prolong the amount of time the palm leaves stay green.