Things You'll Need
Minimum of 12 flowers

Floral Tape

Floral Wire

Bouquet Holder

Fabric to cover Bouquet Holder

Ribbon to tie bouquet
Tip
Practice with some cheap, fake flowers before you purchase the ones you intend to use for your project. You may have to make a few bouquets before you are ready to attempt your wedding bouquet, to avoid wasting flowers.
Warning
Do not attempt to make your first teardrop bouquet the night before your wedding! You may need to make several before you get the hang of it.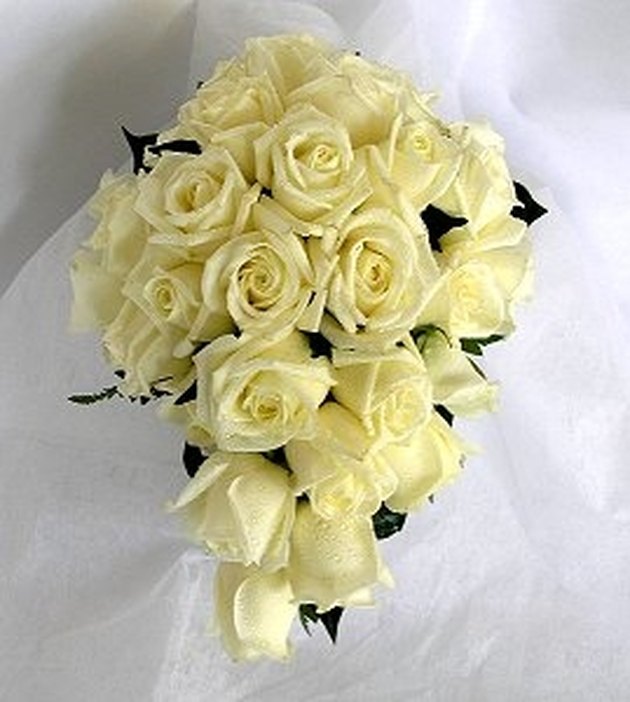 The teardrop bouquet is a close cousin of the Victorian cascade bouquet. The cascade bouquet, however is much larger, longer and a bit messier. Modern teardrop bouquets are compact with a slight tear shape and a small size. They are a perfect choice for brides that are short, petite and don't want their flowers to overwhelm them. Because these bouquets are very difficult and time consuming to make, florists charge a pretty penny for them. For this reason, it is a good idea to attempt to make your own, just so long as you keep the bouquet simple.
Step 1
Choose the right flowers. The best flowers for a teardrop bouquet are small or medium and size and have malleable stems. Stiff, dense flowers are harder to work with, as are larger types. You will also want to choose a flower that will be able to stand alone or with just one accent. Good choices include Calla Lilies, Orchids and Roses. Silk flowers are also very good candidates for this bouquet as they are extremely easy to work with.
Step 2
Cut and wire each flower. If your flowers are not single stem, you will need to cut each one so you can wire them individually. Use heavy floral wire to wrap around the stems, making sure to leave plenty of slack. If the wire ends up being too long, you can always cut it down later. It will be much easier to do that than to redo each flower.
Step 3
Take three of the flowers and bunch them together to form a triangle. Use floral tape to secure the flower stems. These will be the cornerstone of your bouquet. Keep adding more flowers, one at a time to the bunch. Work in a circular fashion, taking care to keep the teardrop shape, rather than a round one. Add your accent leaves or ornamental grass, if you desire, as you go along, grasping the ends with the wires.
Step 4
Pull out your spool of floral tape. Once you have the bouquet formed to your desired shape and size, wrap tape all round the ends of the bouquet to secure it. Place the ends of the wires into a bouquet holder. Cover the bouquet holder with a piece of fabric and tie with a ribbon. Now you're done!