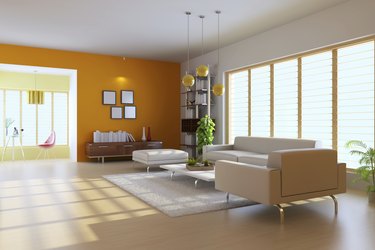 Think of the hardwood floor in a room as the fifth wall. The warmth, width and finish of the floor compose a design element as strong as any paint color, period decor or upholstery. A wood floor is a big selling point for a home. Its beauty, even when the wood is distressed and shabby, adds character to a space. Planks underfoot mix and match with furniture choices with varying degrees of success; about the only real mistake you can make when selecting furniture is to ignore the floor altogether.
Retire the Old Rules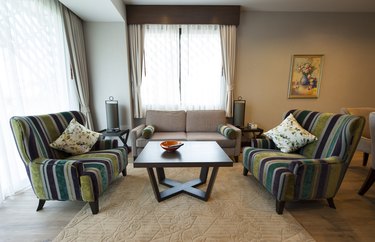 Perfectly matched woods in a room are a relic of yesterday's interior design axioms. Layering wood tones looks both rich and contemporary, and lets you put your original spin on your environment. Ensure basic harmony by limiting different wood tones to two or three choices and combining them in unexpected ways. Dark antiques can anchor a light wood floor, providing some balance in a large, open-plan room. Woods in tones that are too similar and blend into one another may need the intervention of an area rug -- for example, blond Scandinavian furniture can hold its own against a light maple floor when you slip a dhurrie rug under sofa, table and chairs.
The Light Side of Dark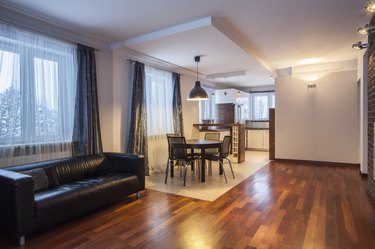 A dark floor has mysterious depths that will seem to swallow dark furniture placed on it. If your furniture is ebonized or dark-stained walnut, or has midnight-blue or inky purple upholstery, you need the intervention of a light or patterned carpet so the room doesn't disappear into shadow. Lighter wood, metallic finishes and light upholstery sit on a dark wood floor like stars onstage in the spotlight. Gilded antiques, upholstered in embroidered brocades, can be appreciated against the dark wood. Bright contemporary synthetic materials -- molded acrylics, sculpted resin pieces -- and combinations of metal and natural fabrics, such as a pair of ivory leather Barcelona chairs, turn a room with dark wood floors into a gallery for your good taste.
Light Fantastic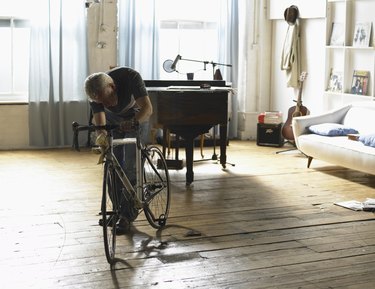 A light or bleached wood floor bounces brightness around a room and adapts itself to most furniture choices. Light wood is less dramatic than dark wood underfoot, but allows you to create drama with the props you add. Go Zen with all-natural materials in light woods, linen and cotton upholstery, pale or neutral colors and clean lines for a spare, serene space. Make your own museum with an uncluttered collection of one-of-a-kind artisanal pieces crafted in reclaimed and unmatched woods, colorful metals, clear plastic and handwoven textiles. Contrast an ebony grand piano with white or ivory walls and the pale wood floor. If you have to add a rug for acoustics, make it an oriental just large enough to cover the music space so the bare floor remains a counterpoint to the piano centerpiece.
Impossible-to-Ignore Floor
Natural pine floors with their punctuation of darker knots are attention-grabbers that define the sense of the room. Typically, such floors call for rustic, primitive or Early American furniture -- the pine seems more casual than a fine-grained hardwood. Play to the strength of the floors with an antique farm table, a twig chair handcrafted from branches, a sofa upholstered in corduroy or another nubby finish. Update the floor with a few carefully chosen pieces of midcentury modern or spare contemporary design, displaying individual chairs, tables or a sculptural sofa against the bare wood. Whether you're going rustic or modern, avoid matching the wood tones of the furniture to natural pine exactly; that erases the boundaries between floor and decor and makes everything appear jumbled together.
Design the Floor as Decor
When you have the choice, select wood flooring to enhance your space and decor. Wide planks "shrink" a cavernous space and remain highly visible no matter what furniture you choose. Narrow boards recede visually, can help to expand a small room and tend not to compete with furnishings. Seams between planks where the boards meet give off a more casual vibe. Square beveled boards with invisible seams are modern and work with formal furniture groupings. Setting wood floors in a room at an angle directs the eye to travel and creates an impression of unbounded space. Herringbone floors are strong design elements that enhance formal decor but should be treated as formidable attention-grabbers in a contemporary space.
---
Benna Crawford has been a journalist and New York-based writer since 1997. Her work has appeared in USA Today, the San Francisco Chronicle, The New York Times, and in professional journals and trade publications. Crawford has a degree in theater, is a certified Prana Yoga instructor, and writes about fitness, performing and decorative arts, culture, sports, business and education .