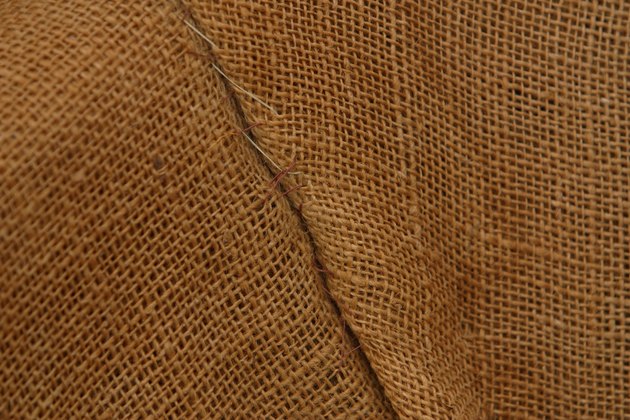 Adding fabric to the ceiling can give a room a finished look. Burlap, a relatively inexpensive material, will give your ceiling texture, and it's also easy to personalize. Burlap isn't best for every decorating situation, but where it is, applying it correctly will guarantee that your finished product adds character to a room.
Identification
Burlap, also called Hessian cloth, comes from the skin of the jute plant. It's a woven fabric, but often quite scratchy, so is used more for decorating and less for clothing. In its coarsest form, it is usually known as burlap, though when manufactured to be thin, it is often referred to as jute. In this form, it can be used for rugs and bags. Either form can be used as a ceiling covering.
Advantages
Burlap is often used to decorate, so finding the material to cover your ceiling should not be a problem. Often, decorators cut it in squares and frame it with some material before applying it to the ceiling. This can create a windowed look on the ceiling, or make the ceiling look as if it hangs lower than it actually does. Burlap is also a popular choice for wallpaper. Manufacturers of burlap claim that it is environmentally friendly, as it's made from natural fibers. Some artists use burlap instead of canvas, so you can also decorate the burlap with paint to give the room a personal touch. Burlap also gives a ceiling a textured look.
Drawbacks
Though it's a coarse material, burlap will not be effective as soundproofing on your ceiling. Because it's porous, sound waves will still go through it. It might, however, take away some of a room's echo and give it a more acoustically pleasing feel. If you need actual soundproofing, you should do that separately, and look at burlap as more of a decoration or finishing to the soundproofing project in a room.
Applying Burlap
Apply burlap in squares or strips. Only use scissors to cut burlap, even though using a razor might be tempting at first. It could snag the burlap and render some of it useless. Use cellulose paste to apply the burlap, but give the paste a few minutes to soak into the fibers before you place the burlap on the ceiling. Because burlap is made from plant fibers, it is extremely flammable. Keep it away from ceiling light fixtures. You can also search for a burlap material that has been treated with a flame-retardant chemical. Spread out the burlap by smoothing it lightly, from the center out. Do not stretch the fibers. If you need to clean the burlap ceiling, use a feather duster or light cloth, and avoid harsh chemical cleaners.
---
Katie Tonarely started writing professionally in 2008. Her work appears in the Springfield "News-Leader" and she provides consumer-related content for various websites. Tonarely received a Bachelor of Arts in English education with a minor in journalism from Evangel University in Springfield, Mo.