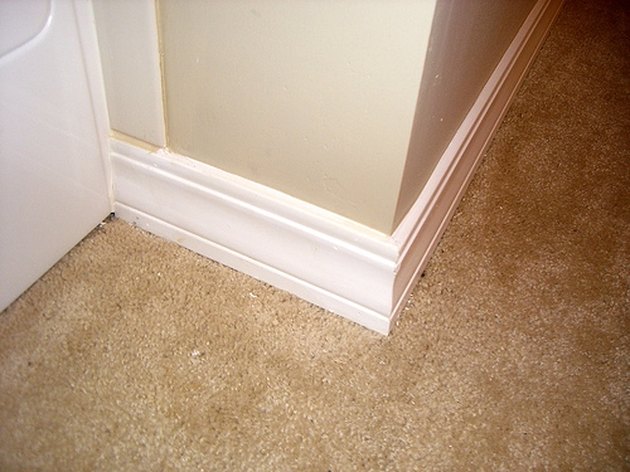 Baseboard molding can lend a touch of class to your new home or remodel, as well as serving some important purposes in construction. There is a bewildering array of molding types and materials available, which might overwhelm the first-time do-it-yourself individual. When selecting molding, keep in mind your particular installation needs.
Function
Baseboards cover the portion of the joint where the wall and floor intersect. They are usually between 3 to 5 inches in height. They also serve to make a smooth transition between the floor and the wall. In certain flooring types, such as laminate, they also serve to cover up the gaps between the laminate strips and the wall.
Constuction
Baseboard molding is constructed from a number of different materials. Each of them have their strengths and weaknesses, so care should be taken in selecting the right baseboard type for your project.
MDF
Medium density fiber board (MDF) is the most common type of baseboard molding. It is an engineered wood product made by combining wood fibers together with pressure treatment. The advantages of MDF are that it is cheap and can be painted easily. However, it has no natural wood grain and does not look good when stained.
Pine
Pine molding is manufactured from pine trees, so it has the look and feel of real wood. It is also the least expensive of the natural woods. However, the structure of pine wood gives it an inconsistent consistency, where certain parts of the molding may be harder than others. This gives it a splotchy appearance when taking a stain or varnish. Where pine works best is when you want the appearance of real wood beneath a light coat of paint.
Oak
Although more expensive than pine, oak is an excellent baseboard molding choice where the wood is to be stained and varnished. Most hardware stores carry a supply of oak, while other hardwoods such as birch and maple may be harder to find. In addition, if you are using oak molding in a hardwood installation, the oak can be stained to match the flooring.
Vinyl
Vinyl is another type of molding available. Its use in residential installations is mostly in utility rooms and basements. It comes in rolls and is held in place with industrial strength glue. If installing this type of baseboard molding, make sure you're working in a well-ventilated area.
---
Nathan McGinty started writing in 1995. He has a Bachelor of Science in communications from the University of Texas at Austin and a Master of Arts in international journalism from City University, London. He has worked in the technology industry for more than 20 years, in positions ranging from tech support to marketing.