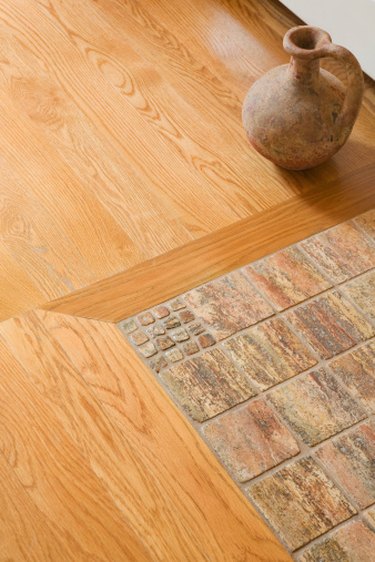 Ceramic tile is one of the most durable floor and wall materials available and has been used in homes for hundreds of years. Easy to care for and available in hundreds of styles, nonetheless there are disadvantages that should be taken into consideration when a homeowner is choosing ceramic installation for the home. Once you know the drawbacks, you can make an informed decision on whether ceramic is the best floor or wall material for your particular situation.
Temperature
Ceramic is cold when used as flooring and can be quite uncomfortable during wintertime in colder climates. Because of the density of ceramic, it takes longer to heat or cool than other flooring materials. Many homeowners will find they require an area rug over the ceramic to make the floor comfortable for those in bare feet. Likewise, a ceramic floor or wall will retain heat in warmer climates, making it more difficult to cool the area where the tile has been installed.
Hardness
While most consider the hardness of ceramic to be an added value, there is also a downside. A heavy glass item may not break if dropped on a floor of a different material but will most likely shatter if dropped on ceramic. In addition, because the ceramic material has no flexibility, the ceramic itself is more prone than other floor types to surface cracking when heavy items are dropped. The hardness also makes ceramic uncomfortable to stand on for prolonged periods and may necessitate a rug or pad for extended use.
Permanence
While a salesperson will tout ceramic as being so durable it will last the lifetime of your home, this is often a drawback as decorating styles and trends change often. Once ceramic has been installed, it cannot be changed; if you tire of the look, you will face a messy and costly renovation project to have it removed and replaced. Likewise, if a tile is cracked or broken, it will be difficult to replace.
Maintenance
While ceramic is fairly easy to maintain, the grout lines between the tiles are susceptible to stains, mold and mildew and must be periodically sealed to maintain the integrity of the grout lines. In addition, ceramic in wet areas may require caulking where the ceramic meets another construction material, and the caulk will need to be replaced when it no longer seals the seam due to aging or cracking.
---
Robin Hewitt began her writing career in 2008. She is the coauthor of several books, including "The Joyous Gift of Grandparenting," which covers the nutritional and fitness needs of both grandchildren and grandparents.