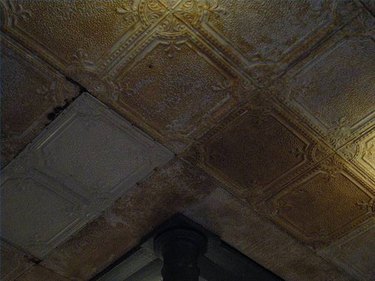 Drop ceilings are found in many different residential and commercial settings. They are designed to suspend below a ceiling or roof structure and are made from metal grid and acoustical tiles. Some homeowners may wish to replace these ceilings to change the look of their home, or as part of a remodeling project. Fortunately there are a number of different alternatives to choose from when it comes to ceilings, many of which can be completed as a DIY project.
Ceiling Materials
Drywall is one of the main alternatives to a suspended grid ceiling. The drywall is typically installed tight to the ceiling joists, while pipes and ducts must be tucked up between the joists. This type of ceiling can be painted to match the walls or treated with a texturizing product like stucco. Installing drywall on a ceiling can be a difficult task that is often best left to professionals.
Tin ceiling tiles and wood paneling are another alternative to drop ceilings. Tiles made from tin or aluminum are embossed to form intricate designs and patterns. These tiles may be painted or left in their natural state. They are typically nailed directly to the ceiling, with a layer of plywood in between the tiles and the joists. Wood paneling is installed in a similar manner and is available in a variety of colors and finishes to match many different decors.
Exposed Ceilings
Sometimes the best choice for a ceiling is to simply leave it unfinished. This can help create a unique look that may appeal to many homeowners. If your ceiling decks are made from wood, the exposed ceiling may consist of wooden joists or timbers. Pipes and ducts are often installed behind the beams, or flush against them. Some homeowners may wish to stain or seal the wood to give it the desired appearance. For concrete ceilings, pipe and ductwork are often a welcome part of the room's decor. This type of exposed concrete ceiling is popular in industrial or modern designs, and ceilings may be painted black or left untreated.
When designing an exposed ceiling, consider using round or spiral ducts rather than the traditional rectangular models. Rounded or spiral (corrugated) duct often offers a more polished appearance in rooms where duct will be left uncovered. If the ducts need to be insulated, ask for lined ducts to avoid having to wrap batt insulation around the exterior.
Considerations
Those looking to replace a suspended ceiling with an alternative material should consider several factors before making a decision. First, determine the space you'll need. Suspended ceilings are often installed more than a foot below the deck above. If you are trying to replace this ceiling to increase ceiling heights, you may be surprised to find that existing pipes or ducts will require the ceiling to stay at its current level. Before removing a grid system to create an exposed look, check behind the tiles to ensure your ceiling is in good condition first. Don't forget to take into account that the top of all the walls in the room may need to be refinished. Many contractors do not finish or paint walls above the level of a suspended ceiling.
---
Emily Beach works in the commercial construction industry in Maryland. She received her LEED accreditation from the U.S. Green Building Council in 2008 and is in the process of working towards an Architectural Hardware Consultant certification from the Door and Hardware Institute. She received a bachelor's degree in economics and management from Goucher College in Towson, Maryland.