Make your floorboards a creative living space if you have wooden, vinyl or concrete floors. First, wash, sand and prime your wooden floors. If you have vinyl, tile or concrete, wash and dust the floors. Then, explore different colors, patterns, borders, motifs and stripes to paint on your floorboards. It takes time, some paint, tape and effort, but the finished product will last you years and brighten up your home. Look through design magazines, do some sketches in a notebook, and come up with patterns or stencils in your favorite colors before you decide how to decorate your floors.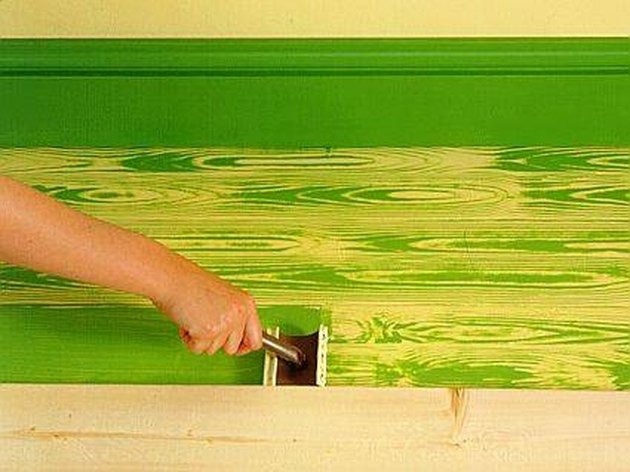 Step 1
Create a scale drawing by first measuring the floor you are planning on decorating, and then buying some large sheets of graph paper. Draw the outline on the graph paper in order to create a template. Do this only if you are planning on decorating your floor with a patterned design. After you draw the outline on the graph paper, sketch the desired design or pattern onto the paper. Translate it directly to the flooring and cut or paint it to the correct sizing. Be extremely careful while doing this as the best product comes from accurate measuring, patience and precise detail.
Choose as many shades of paint as you would like to paint your floorboards. Painted floorboards are easy to clean and repaint, so you don't have to restrict yourself to just one color. Place masking or painting tape around the floorboards so paint does not touch the bottom of the wall. Start in one corner of the room furthest from the door, so you end up backing yourself out of the room. Try different color patterns, from retro striping with pale blue, beige and tangerine; or try a simple two-tone checkerboard effect to give the feeling of tiles. Or try an antique look and run the brush lightly over the wood so color is evident but doesn't completely cover the dark wood. Paint on wood can dry overnight to requiring a couple of nights, depending on how thick you layer the paint.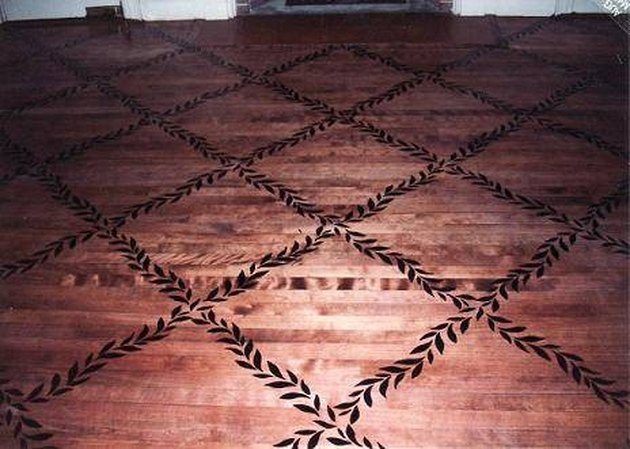 Use a stenciling and stamping method to leave your wood bare and create a pattern around the room or in certain corners, possibly even climbing up onto the walls. Choose various colors of paint and mark out the design carefully on the floor. Try a simple geometric border or an elegant, detailed stenciled pattern in the corner such as flowers and vines in bold colors. After marking out your design, set to work with a paintbrush or small roller. Latex paint works well for stencils as it is easy to scrape off if you make a mistake. Let dry overnight. Use painting or masking tape if necessary, and most painting stores offer stencil adhesive to keep the stencil in place while you are painting.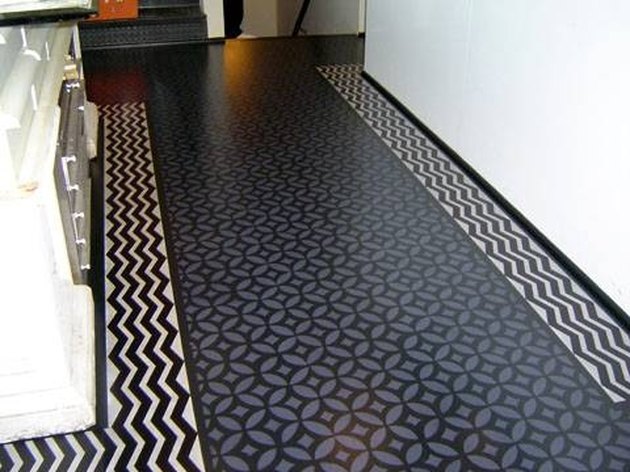 Deceive the eye with a decorative effect to make guests and yourself think there are elaborate rugs on your wooden floor. Create fake painted rugs or runners on wooden floors in hallways, on stairs or in front of a fireplace. Choose simple geometric designs anywhere from French to American Indian designs, or even look for expensive rugs you would like to buy and paint them on your floor instead. For an authentic look, paint tassels at both ends.
Step 5
Use a specialized product created recently by manufacturers to paint onto vinyl tiles and sheet vinyl flooring. It's best to use this to create new patterns on top of the vinyl. Prepare the floor according to the manufacturer's instructions on the product, then apply the vinyl paint. Paint on vinyl floor will need overnight to two nights to dry.
Step 6
Turn concrete from uninspiring to inspiring by creating a glossy smooth finished with paint. Make sure the concrete floor, especially if a garage floor or if you tore up the carpet, is free of all debris and dust. Colors are limited, but anything is better then concrete if you don't want to lay down new carpet. Also, concrete-coloring pigments are now available on the market. Painted concrete will need at least overnight to dry.