Dull concrete transforms into a decorative flooring option with the use of the right paint. A concrete floor appears cold in a room if left to its original appearance. With a little paint, the floor comes alive with color. The process, however, is not as simple as painting a wood floor. Using durable paint along with the right application process is necessary for the best possible results.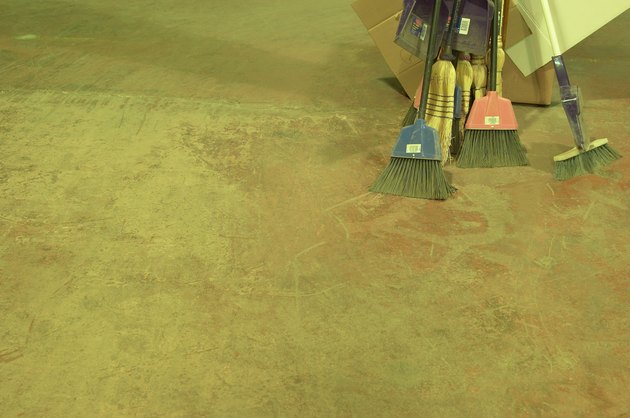 Even the most durable paint will chip, peel or fade if not properly applied to a concrete floor. Before you begin to paint, you must prepare the concrete surface to accept the paint. Clean the area thoroughly, beginning with sweeping and mopping. Use a trisodium phosphate-based cleaner to remove any grease, grime or buildup. If a previous coating is on the floor, a chemical stripper and a floor scraper might be the first options to return the concrete to its original form. Do not paint over a previous floor coating. Repair any cracks or fractures in the concrete before beginning the project.
Epoxy paint is both a durable and relatively inexpensive option for painting a concrete floor. The special paint seals the concrete while adding color, eliminating the need to prime or seal the floor before beginning to paint. The colors available may be limited, so shop various brand names for the right shade. The paint is applied directly on the concrete with a roller. Smooth the paint evenly over the area. Be cautious about getting the epoxy paint on walls or other items in the room. Removal of paint splashes or splatters is difficult.
Oil-based paint absorbs into concrete, creating lasting color and a durable finish. Available in almost every possible color, oil-based paint requires primer or sealer application to the floor prior to painting. Allow the primer or sealer to dry completely prior to painting. Oil-based paint requires multiple coats on a concrete floor, because it absorbs into the pores of the concrete. This same absorbing process is what makes it one of the best options. Roll the paint on with a roller, and allow the first coat to dry prior to adding a second. Decide after the second coat dries whether a third is needed. Add a final layer of clear coat to the floor after the paint is dry.
Latex paint comes in as one of the best options for a concrete floor because of its ease of cleaning. Before applying latex paint, apply a sealant to the concrete. This will give the water-based paint a base. Cleanup of latex paint during the process requires only soap and water. Select a washable form of latex to ensure that regular cleaning and mopping does not affect the color. Apply several coats of the latex paint to the floor with a roller to get the right color and to create a firm barrier.