Searching for furniture, especially for rooms like kids rooms and guest rooms, needn't be an expensive proposition. Yard sales and thrift stores can sometimes yield quite useful pieces, with only some small flaws in the finish. Using fabric to cover burns or veneer problems is an easy way to transform a throwaway to a personally-designed signature piece.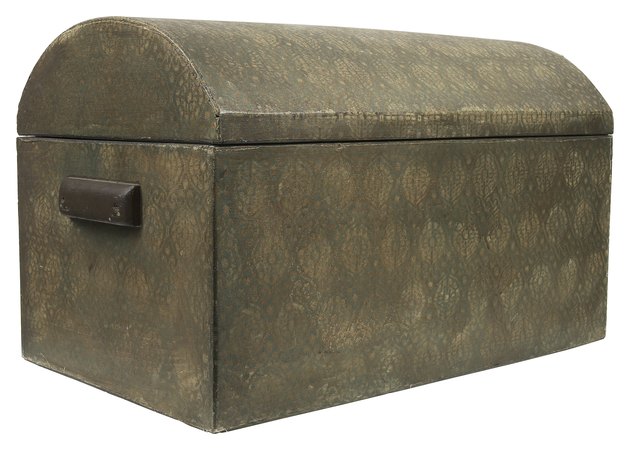 credit:
Hemera Technologies/PhotoObjects.net/Getty Images
Step 1
Decide which parts of the furniture you are going to cover with the fabric. You can cover the top and put accents on the front and sides, or you can cover the entire piece.
Step 2
Measure the first part of the furniture that you want to cover. If the piece is square or rectangular, just using the measurements will do. If it is an irregularly-shaped piece, make a template from newsprint by holding the paper against the furniture piece and drawing around it then cutting it out.
Step 3
Cut out a piece of the cotton fabric the same size as the area that you are going to cover. Make sure that the fabric is the exact size without going over the edge more than 1/4 inch.
Step 4
Paint a thin layer of decoupage medium over the area to be covered. Make sure that the layer is smooth without any obvious blobs.
Step 5
Lay the fabric on the furniture, making sure that the fabric is straight and the edges are even with the furniture edge. Use a plastic edged tool to help smooth out the fabric and remove any bubbles or folds.
Step 6
Paint a thin layer of decoupage medium over the fabric. Make the layer smooth and without any lines or grooves. Allow the medium to dry thoroughly, then apply another layer.
Step 7
Repeat this entire process until you have the entire piece of furniture covered with fabric pieces. Allow the entire piece to dry for 24 hours before using it.