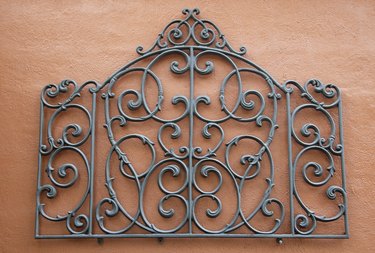 "Spanish lace" is likely a designer-generated term for a plastering technique that creates some interest on plain drywalls and can be used to camouflage imperfections, as well as to imply character. The process, also known as "knockdown," involves spattering a newly plastered wall with raised bits of plaster and then slightly flattening it -- or knocking it down -- with a trowel. The effect is denser, raised-but-flattened plaster designs connected with strands of the knocked-down plaster, like the lace of a Spanish mantilla.
Spanish Colonial Lace
Spanish colonial design, with its wide arches, stuccoed walls, warm colors and chalky whites, is all about texture. From terra-cotta floor tiles to aged beam ceilings, the look is as much tangible as it is visual. A long hallway with wrought-iron rustic chandeliers and Talavera-tile floors needs more than pumpkin or maize paint on flat-plastered walls. Give the walls their own interest with a Spanish lace finish that will shift and shadow in the changing light from a skylight by day and the flickering of faux-candle bulbs in the chandeliers at night.
Textures of Tuscany
A Tuscan kitchen is a melange of colors and textured surfaces that imparts a rich, rustic vibe. Plastering the walls in a knockdown technique adds value to your carefully assembled Mediterranean eat-in space. Mediterranean terra-cotta floor tile, with its softer, variegated colors and uneven saturation, keeps the room from looking too Mexican-inspired. Leave the baseboards and trim unpainted so the natural beauty of the stained and sealed wood shines through. Tile the countertops and backsplash with hand-painted tiles and extra-sealed grout. Finish the walls in Spanish lace -- warm honey or cool faded-olive paint brings out the delicate tracings in the plastered walls and lets you add a few vivid accents without overwhelming the room in excessive bright hues and decorative touches.
Lace on Lace
A French country bedroom is romantic and casual, but there's nothing accidental about every element of its design. A painted iron or faux-distressed wood bed frame is buried under heaps of cotton lace, flowered chintz, cut-out linen and embroidered damask bedding. The wood floors are sanded, bleached and waxed. A whitewashed armoire replaces a conventional dresser. And the walls are finished in Spanish lace texture -- sometimes referred to as "French lace," very appropriate in a French country bedroom -- painted over with palest blush, lilac, heavy-cream or mint flat latex. Add ceiling-to floor drapes made of stitched-together horizontal panels of toile and unbleached linen. A handmade bench, stenciled with a spill of van Gogh-style sunflowers, or a reupholstered salvaged chaise tucks up neatly against the lacy walls.
Lace-making Skill
Creating a knockdown finish on a plastered wall takes some practice and skill. To really approximate the look of lace, you have to master the correct splatter of joint or texturing compound, most often applied with a sprayer. Too heavy and the finish will be very thick -- fine for rooms with dramatic arches, time-blacked wood beams or massive, tall stone chimneys and high ceilings. Very light applications of plaster spatter are more delicate and suitable for a subtle Old World decor in an elegant living room or romantic bedroom. In both cases, the real art comes from the knockdown technique. Flattening the wet plaster with a drywall knife or trowel takes a deft hand, but once you get it right, the spatters flatten and send out thin strands which connect the whole barely raised pattern like a drift of fine lace.
---
Benna Crawford has been a journalist and New York-based writer since 1997. Her work has appeared in USA Today, the San Francisco Chronicle, The New York Times, and in professional journals and trade publications. Crawford has a degree in theater, is a certified Prana Yoga instructor, and writes about fitness, performing and decorative arts, culture, sports, business and education .