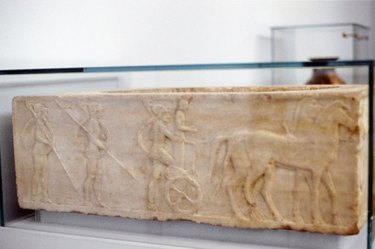 Limestone is a common rock composed of the mineral calcite. Calcite comes primarily from the shells of organisms such as corals and clams. When these sea creatures die, their shells pile up into debris. This then forms limestone beds which is compressed over thousands of years to create limestone. Limestone has become a popular building material for fireplace hearths, tile, and other areas where stone can be used. There are several advantages and disadvantages to consider when it comes to using limestone.
Elegance
A fireplace hearth made of sandstone can create a definitive focal point in a room. The "look" of limestone can increase the home value because it is considered an impressive and sophisticated stone. In addition, limestone countertops are preferred by serious bakers as the stone is cool and ideal for rolling out baked goods. Limestone is also available in a wide range of colors.
Carving
Limestone is a somewhat soft rock form; it can be carved into shapes or shapes can be carved into it much easier than many other rock forms. This can be very beneficial if you want to create something unique out of a piece of rock.
Porous and Soft
Limestone is a porous rock which means it has many tiny holes throughout the material. If it is not sealed properly, any smoke or liquid can penetrate the stone and cause permanent staining. Because it is a soft stone, it can discolor and scratch easily and can be etched if acidic liquids, like orange juice, are spilled on it.
Cost
Limestone can be fairly expensive to install. The material usually costs between $3 to $10 per square foot and it is strongly recommended that it be installed by a professional as limestone is very heavy and difficult to maneuver. Installation charges can vary greatly depending on complexity and size of job.
---
John Michael is a marketing professional with diverse experience in consumer, health-care, telecommunication and electronic market research. He has been writing professionally for over 10 years. He has a Master of Business Administration from the University of St. Thomas.