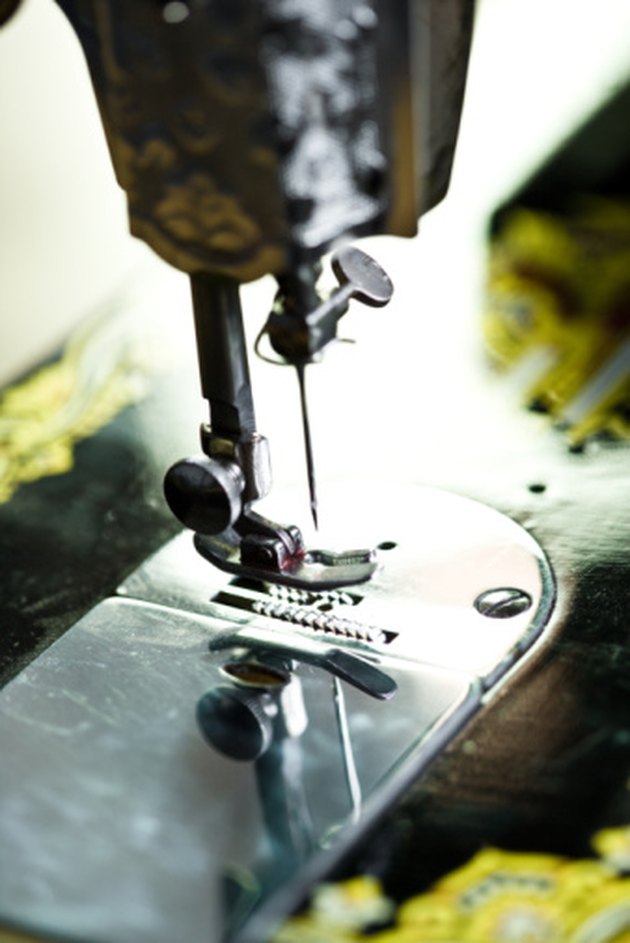 Vinyl is "the world's most versatile plastic material," according to the Vinyl Institute. It is made up of chlorine and ethylene, and can be modified to produce anything from heavy plastic pipe to cable insulation to upholstery for cars or furniture. Vinyl upholstery is touted as being less expensive and more durable than leather, and it can be sewn in much the same way. However, sewing techniques for vinyl differ than those used for sewing lighter fabrics.
Practice First
Since puncture marks made in vinyl material -- even pin marks -- are permanent, vinyl is a much less-forgiving fabric than, say, cotton or silk. It is therefore prudent to practice before attempting to sew vinyl. Experiment with any sewing techniques that you'll use so that you're sure you've mastered them. It may also help to practice on a scrap piece of vinyl to get used to its feel.
Use Heavier-Gauge Materials
Vinyl is a heavy material, and requires the use of heavy pins and needles. The Cyberseams website recommends the use of heavy quilting pins if you need to pin the material, and to be sure to pin within the seam allowance to make sure the resulting permanent holes don't appear on the right side. Needles made for sewing with leather can work well with vinyl.
Prepare for a Heavier Material
Vinyl is thick and tends to stick to metal throat plates and presser feet; this makes it a challenge to guide the material smoothly through the sewing machine. An industrial sewing machine may be easier for sewing vinyl than a machine sold for home use. Oil the machine on every use. It may also help to place a piece of tissue paper under the vinyl to help move it along.
---
Mary Strain's first byline appeared in "Scholastic Scope Magazine" in 1978. She has written continually since then and has been a professional editor since 1994. Her work has appeared in "Seventeen Magazine," "The War Cry," "Young Salvationist," "Fireside Companion," "Leaders for Today" and "Creation Illustrated." She earned her Bachelor of Arts in English from Oglethorpe University in Atlanta.