Tip
Bulrushes can grow to be several feet tall. Cut your specimens at a length appropriate for your use.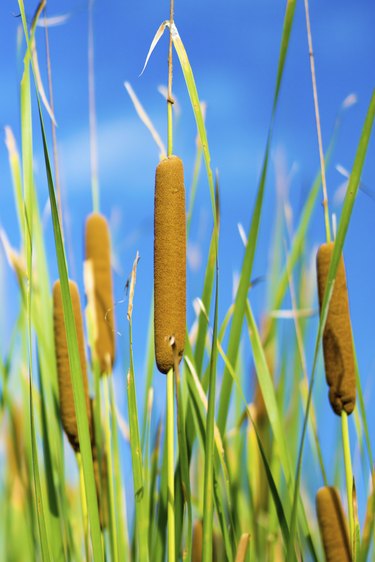 Bulrushes (also known as cattails) are emblematic of nature's graceful charm. Typically found in wetland habitats, these lovely specimens need not stay outside with their beauty. With a few simple steps, they can be prepared and preserved for display around the home or office.
Step 1
Cut off the bulrushes, evenly and at approximately the same length, along the stem, using garden shears.
Step 2
Tie the bundle of bulrushes together with twine, about an inch or two from the base of the cut.
Step 3
Hang the bundle upside down, in a warm, dry place with good air circulation. The bulrushes should not, however, be placed in the sun because the sunlight will fade the flower's colors.
Step 4
Let the bulrushes air dry for several weeks. Do not remove them until they are completely dry.
Step 5
Carefully remove the bundle, and spray it lightly with hairspray to provide extra protection. Hang the bulrushes anywhere, although they should still not be placed in direct sunlight.