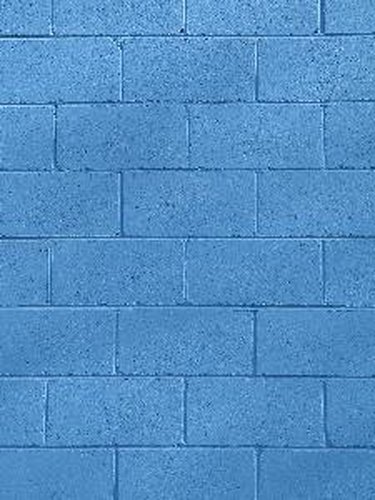 Cinder block walls are commonly associated with college dorm rooms or drab institutions, but many homeowners also have cinder block walls in the basement. Architects and designers use cinder block because it's fairly inexpensive and is a strong building material. If your basement features cinder block walls, then use decorating ideas to brighten up the space and make it feel more inviting.
Movie Night
Turn that boring cinder block wall into a home entertainment theater. Paint a coat of white paint on the walls, or leave as-is if the cinder block has a lighter color. Hang a large curtain rod across the top of the cinder block, drilling holes directly into the wall to secure the rod. Attach two red velvet curtains to the rod and keep the curtains closed when you're not using the space. Invest in a video projector and aim it directly at the wall. You may need to move the projector around to find the best fit. Arrange bean bag chairs, cushions and a couch at the wall and host movie nights for friends and family.
Blackboard Fun
Turn an unused cinder block wall in the basement into an oversize chalkboard for the kids. Most home improvement stores or paint stores sell chalkboard paint. After you paint the walls and let it dry, the paint works like a blackboard. Any bumps or imperfections on the cinder block walls add texture to the drawings. Keep colored chalk and erasers on hand for drawing on the chalkboard. Or, have the family draw a design with chalk and then apply a clear sealant. The sealant protects the drawing and turns it into permanent artwork for the room.
Sponge Paint
Sponge painting is a college trick to hide boring cinder block walls in dorm rooms. All you need is paint and dry sponges. If you prefer a more colorful look, opt for several different colors of paint. Crumple the sponge in your hand and dip it in the paint. Dab the sponge on the walls, going over each area at least once. Mix and match the different colors for a one of a kind look.
Stucco Crazy
Add texture to your basement by turning the cinder block walls into stucco walls. Hardware stores, paint stores and home improvement stores offer stucco products that nearly anyone can apply. Mix the stucco with colored paint, or choose colored stucco. Not only does it hide the cinder block walls, but it gives the room some dimension.
---
Jennifer Eblin has been a full-time freelance writer since 2006. Her work has appeared on several websites, including Tool Box Tales and Zonder. Eblin received a master's degree in historic preservation from the Savannah College of Art and Design.