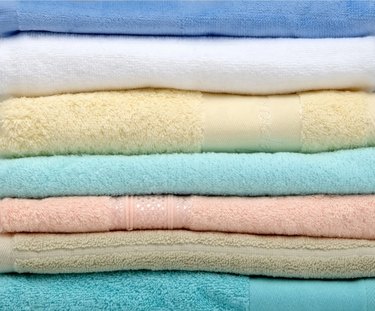 Although terrycloth is one of the most recognizable fabrics in the world, most people know very little about this familiar textile.
History
Early terrycloth was produced by hand using silk fibers. By the mid 19th century, terrycloth was mass-produced in England and woven entirely of cotton. Samuel Holt patented the manufacturing process and moved operations to the United States in 1864. Today, most terrycloth is made from cotton and cotton/polyester blends.
Uses
Terrycloth is a popular fabric for bath and beach. Fashion designers feature lines of terry yoga, lounge and exercise clothing. Terrycloth is also used as furniture upholstery, outdoor cushion and pillow covers.
Appearance
Basic terrycloth features a high loop pile on one or both sides of the fabric. The unique weave gives the terry it's signature plush, textural appearance. The loop pile normally remains uncut, but is also found in cut versions.
Characteristics
The hallmark of terrycloth is its highly absorbent nature. The cotton loops act as small sponges to absorb water. The loop pile gives terrycloth a soft, yet durable quality. Terry is an easy-care fabric that does not require ironing and holds up to repeated use and laundering.
Variations
French terry is the stretch version of terrycloth. It features short loops of pile on the reverse with a smooth face. It is typically a sportswear fabric.
Terry velvet is terrycloth woven from silk, silk and worsted, or silk and cotton. It is used for furniture upholstery and trim.
Theory/Speculation
The word 'terry' comes from the French word 'tirer' meaning to pull out or pull through, referring to the loops that appear pulled from the warp and weft of the textile.
---
Linda Chechar is a writer with more than 20 years of career experience in print and broadcast media, advertising, real estate and retail home decor. She holds a Bachelor of Arts in journalism from Northwestern State University. Her content is currently featured on a variety of websites and blogs.