Wooden letters are a stylish and elegant way to add interest on a wall in the home or bedroom decor. Popular letter themes include first names, initials, monograms and inspirational quotes or sentences. Hanging letters using ribbon is an excellent way to display the letters, especially if they are set high on a wall since there is no shelf to support the letters, which would obstruct the view. Ribbons can be selected in colors to blend with the wall color or to stand out from the wall color to enhance the focal point of the display.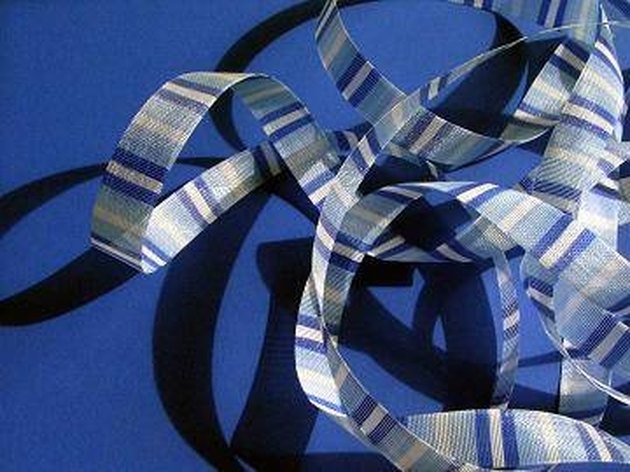 Step 1
Spread the wooden letters out on a flat surface like a bed, table or floor, preferably in the room in which you will be hanging them.
Step 2
Arrange the letters to find the perfect arrangement of the wooden letters that appeals to you and matches the style of the room and space on the designated wall.
Step 3
Measure the distance between letter placements. Also, estimate the length of ribbons desired for hanging. Create a sketch of the placement, and write corresponding measurements for the spacing between the letters and the length of ribbons on the sketch.
Step 4
Using the appropriate tool, drive the hangers, nails, screws or hooks into the wall according to the placement design sketch and measurements.
Step 5
Paint the nails, screws, hangers or hooks the same color of the wall to camouflage them if you desire that look.
Step 6
Measure and cut the ribbons to the desired length. Remember to double the length, since the ribbon will be double for hanging.
Step 7
Close off the ribbons making loops. Remember that closed letters like "O" or "Q" will need the ribbon tied through them before closing, knotting or sewing together the loop or bow. Ribbons can be closed with a bow, a simple not in the end, a gathering of thread around the end or sewing a few simple stitches.
Step 8
Hang the wooden letters using the ribbon on the designated nails, screws, hooks or hangers.