Although gray may remind you of rainy days and concrete jungles, it has found a permanent home in interior decorating, much like beige and its many variants. Gray, however, is trickier to select than other neutrals.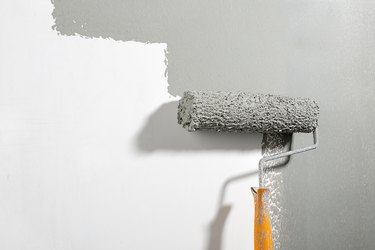 If you've ever mixed paint colors on a palette, you know that gray, in its purest form -- white plus black -- is achromatic, a true neutral with no discernible hue. This means that gray makes an ideal backdrop for any accent color.
A Color Chameleon
The undertone is important. Though the appearance of all colors alter as lighting conditions change, grays require special attention. Cool, northern light can give gray a blueish hue, while warm southern light provides a golden glow. Eastern rooms will be warmest at sunrise, and western rooms at sunset.
In north- or west-facing rooms, opt for a warmer gray, a gray with a beige undertone, sometimes called greige. Warm grays will attract light, lending a cozy feel. Conversely, south- or east-facing rooms can tolerate cooler, blue, green or purple-toned grays. One way to offset the impact of light is to layer tonal grays with other colors.
Keeping It Cool
The coolest of cool grays are those with a blue base. Pair dark storm cloud gray walls with velvet upholstery in graphite and amethyst for instant drama. Layer an abstract rug that picks up the same tones over dark concrete floors. Finish with silver accents and moody artwork.
Lighter, cooler grays are more liveable than their darker counterparts. Dove gray walls and silver-gray draperies are warmed by upholstered furnishings in camel and warm white. Add a glass table and an area rug in muted shades of cream, cool gray and warm white, grounding the space with hints of black. Keep it monochromatic, or add azure or pumpkin accents for seasonal variation.
Warmer Ahead
Wrap your walls in a light warm gray to contrast against dark wood floors. Opt for upholstery in shades of oatmeal, complemented by toss cushions in a honeycomb print of black, cream and white. Contrast with additional accents in a deep, warm red. Add side tables in glass and brushed nickel and colorful artwork with bold black frames. Choose an area rug that incorporates all the color tones.
Mixing It Up
Rarely do windows face one direction, so your interior light may combine warm and cool tones. Mix your grays as you layer clothing colors. Paint the walls a medium cool gray to offset weathered wood floors and worn metals. Upholster an accent chair in fuchsia, keeping other upholstered pieces in shades of warm gray. Introduce patterns infused with fuchsia and bright yellow for cushions and accessories.
For a more classic look, try pewter walls, a warm, natural wood floor, black area rug, a moleskin-colored sofa, and accent chairs in buttercream with charcoal contrast piping. Decorate your windows with striped silk draperies in shades of pewter, yellow, white, cream, and black. Add black glass accents and a combination of cushions in solid black and the pewter-yellow-white-cream mix.
---
A decorator/designer, writer, power yogi, and philanthropist, Christina Mogk has been published in Oceana, Canadian Fabric, for which she is managing editor, and Wedding Essentials. She is the author of the blog, mecc interiors | design bites, and writes feature articles for the professional design community via Décor Digest.