Pink can be a great color for decorating, but it can sometimes be hard to match with the right shades. It's easy to end up with a room that looks like a Pepto-Bismol commercial, a beyond cliché baby girl's nursery or a rejected Barbie dream house. With the right contrast color of baby pink, though, the hue can look chic and all grown up.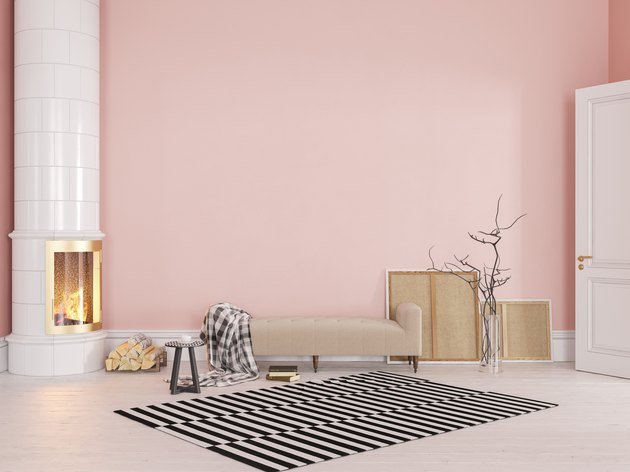 credit:
YKvision/iStock/GettyImages
This color combo might sound strange to some, but with a soft, rosy pink and a bright, zesty orange it's easy to see the colors of sunset in your home decor. The result is a refreshing, warm colorscape that isn't overwhelming and is entirely inviting. This color pairing looks particularly good with a Southwest-themed decor.
Sure it may sound basic, but white goes well with just about any color. If you're looking for something that will be timeless and match any shade of pink you throw at it, white is certainly a good match, and it's sure to help draw attention to any pink accents.
Like white and pink, it's hard to go wrong with pink and black no matter what shade of pink you choose. Whereas white looks energizing, relaxing and timeless with light pink, black looks bold, dramatic and modern.
Sapphire blue can create a great jewel tone when paired with pink. Throw in some emerald greens or citrines to emphasize this rich look. Alternatively, navy can create a grown-up look that tones down some of the femininity of baby pink.
Whenever you combine blue and pink, it's important to stick with bold and darker shades like sapphire or navy because light pink with light blue can easily start to look like a baby shower.
Bronze is the "it" metallic shade in 2019, and pink pairs just perfectly with it, reminiscent of another wildly popular hue: rose gold. While the pairing is totally modern, it also has a distinctively retro vibe that would fit in perfectly in the swinging '60s or the romantic Rococo era depending on your accents.
Pink can be pretty energizing, even in pale shades, but when paired with gray, it can create a soft, relaxing space that's perfect for unwinding. Consider this great pairing when trying to create a serene bedroom. You may even want to work these two colors in with white for a space that's relaxing but still sophisticated.
Yellow is one of the many colors that go with pale pink, in this case creating a bright, cheerful space. If you really want something that stands out, though, consider using a whole palate of pinks including blush, bubblegum and even soft magentas and pair them with the muted shades of mustard and citron. The combination is reminiscent of the Victorian era but still entirely new.
It can be hard to properly pair pink and beige without creating a room that looks too bland, but if you go with a super-soft pink like cherry blossom and then throw in a few bold accents like chartreuse potted plants and some periwinkle-blue shelves, the result is pretty, relaxing, subtle and comfortable.
Green may perhaps be the best of all the colors that go with light pink. It creates a classy, preppy look that's comfortable whether you use apple, teal, grass or just about any other shade. When playing with light pink and green, consider using more basic accent shades like white or black or using metallics like gold, or you may have too many competing shades that take away from the perfect green/pink balance.