Light pink is a neutral, a little-girl color, a flattering shade of light for most skin, a hint of dawn and a potential decor-plus in any room of your house. Pink is a tint of the primary color red -- red with white added to lighten it. The proportion of white to red determines whether a pink is vivid, like rose, or pastel, like blush. You might find light pink in bathroom tiles or on enameled appliances. You might choose to add it in a patterned rug, wall paint or bedding. What you pair the light pink with determines how well it works in your decor.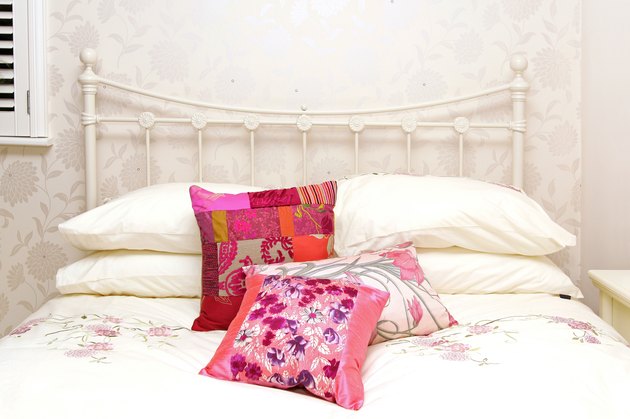 credit:
ttatty/iStock/Getty Images
Tints, Tones, Shades and Gray
Muting pink is a designer trick accomplished by blending different amounts of both white and black with red. White tints red paler; black shades pink darker; gray -- the mix of black and white -- creates a grayed-down pink, which is subtler and more sophisticated. Combine a shade of pink -- dusky light peony -- with a shade of green -- pale jade -- for a beautifully stimulating effect. Red and green, the root colors of these pastels, are complements on the color wheel. As such, they create a dynamic fusion that energizes without clashing when juxtaposed in decor. Playing with the intensities of the colors to mix a light pink with a light green imparts a shimmering serenity to a room -- not bland and pastel, and not jarring and vibrant.
Pale pink walls are soothing in a bedroom -- whether a grown-up's or a little girl's. The merest hint of flat blush latex on the walls of a master suite sets the stage for ornate ivories, metallic golds, silks and satins. But it might also intensify the rich green and black tartan of bedding and drapes, or wrap around a plantation-style honeyed-wood four-poster set on an antique oriental rug in reds, creams, sapphires and greens. A princess bedroom with light pink walls and bedding is saved from being cloying with chair upholstery and pillow shams patterned in giant hot pink and red hibiscus, lime and ivory striped curtains and a peridot-green plush area rug. Pink is versatile enough to handle gilding; metallic silver and platinum; mirrors; navy; every shade of brown; the punctuation of black; and the whole palette of nature's colors.
You inherited a bathroom paved and walled in pink ceramic tile, with a pink porcelain sink, toilet and tub. Your charming period kitchen boasts both a stove and refrigerator in unmistakable pale pink. First, do not panic. Second, don't start madly ripping things out and shopping for replacements. Striped red, white and charcoal wallpaper and gray towels will kick a little life into the bathroom. Palest mint paint on any untiled walls, mint and rose towels, and an abstract mint and cream pattern on a roman shade preserve the bathroom's vintage charm without being fussy. The pink stove and refrigerator are high style with a black-and-white checkerboard floor -- tile, linoleum or painted wood -- chalk-painted cabinets in cream, light green or white, and a robin's egg blue or copper farm sink. Celebrate your found pink; those unexpected appliances can command a high price from collectors.
Scientists actively debate whether or not the color pink actually exists. It is an impossibility in the rainbow light spectrum because white is really the presence of all light, so you can't lighten red with white to get pink. And purple is at the opposite end of the rainbow from red, so the two colors are never adjacent to merge into a rather violent pink. An argument detailed in Time magazine says that pink is a made-up color and cannot, in theory, exist. Of course, anyone with a garden full of heritage roses and peonies in full bloom might argue with that, as might early risers marveling at a pale pink sky or a ballerina breaking in a new pair of pointe shoes. Impossible as it may seem, the light pink accent wall in your minimalist-white home office, echoed by the same shade of pink on the pendant lampshade over the desk, does add a very visible and happy note to your decor. If pink does exist, you might as well enjoy it.