Things You'll Need
Goldwell hair color

Goldwell developer

Color bowl and brush or Goldwell color applicator

Protective gloves

Hair conditioner
Tip
Put on protective gloves before applying the hair color to avoid staining your hands.
When mixing the hair color and developer, always measure the hair color first.
Warning
When using Goldwell hair color on yourself or a client for the first time always perform a patch test prior to the color application to check for allergies or sensitivities to the product.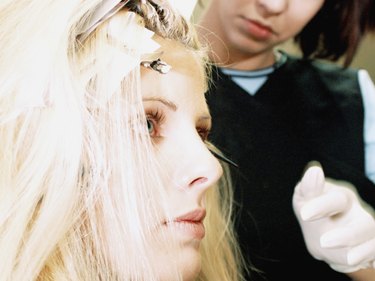 Goldwell hair color is used to permanently alter the natural color of your hair. As with most permanent hair colors, the Goldwell hair color is mixed with a developer, applied to the hair and allowed to process, changing the hair color. Goldwell is a professional hair color line that can only be found in professional hair salons.
Step 1
Select the desired shade of Goldwell hair color. Each Goldwell color bottle or tube has a designated number and letter combination which denotes its color. The number indicates the level of color, from two to 10, and the letter indicates the underlying color tones. Levels 11 and 12 are reserved for high-lift blonde hair colors.
Step 2
Select the proper level of developer to mix with the Goldwell hair color. Use 10 volume developer if you are coloring your hair darker, 20 volume developer to lighten up to one shade lighter or cover gray hair, and 30 or 40 volume developer to lighten the hair two to four levels respectively.
Step 3
Mix the Goldwell hair color and developer in a color bowl or Goldwell color applicator. Use a 1:1 ratio for levels two through 10. For high lift blondes mix two parts developer to one part hair color. Ensure the developer and hair color is thoroughly mixed.
Step 4
Apply the mixed hair color to the hair with a color brush or applicator. For root touch ups, apply the hair color to the regrowth only. For new applications, also called virgin applications, apply the hair color first to the mid-shaft of hair one inch from the scalp and one inch from the ends of the hair. Next apply the hair color to the roots, followed by the ends.
Step 5
Allow the hair color to sit on the hair and process. Processing time is 30 minutes for regrowth touch ups when hair color levels two through 10 are used. High-lift blonde processing time is 45 minutes.
Step 6
Rinse the hair color from the hair thoroughly and apply conditioner to the hair. Allow the conditioner to sit on the hair for one to two minutes and rinse thoroughly.
---
Sophia Darby is a former professional hairstylist who has spent the last six years writing hair-related articles for both online and print publications. Her work has appeared in Celebrity Hairstyles Magazine, as well as multiple websites.