Tuscany is world famous for its rustic, sun-drenched villas and its fabulous, earthy food. You can bring these elements into your own home and create a Tuscan style kitchen that is beautiful to look at and a pleasure to cook in. Be sure to make room for a large farmhouse table and plenty of dining chairs, as your family and friends will gravitate towards this inviting room.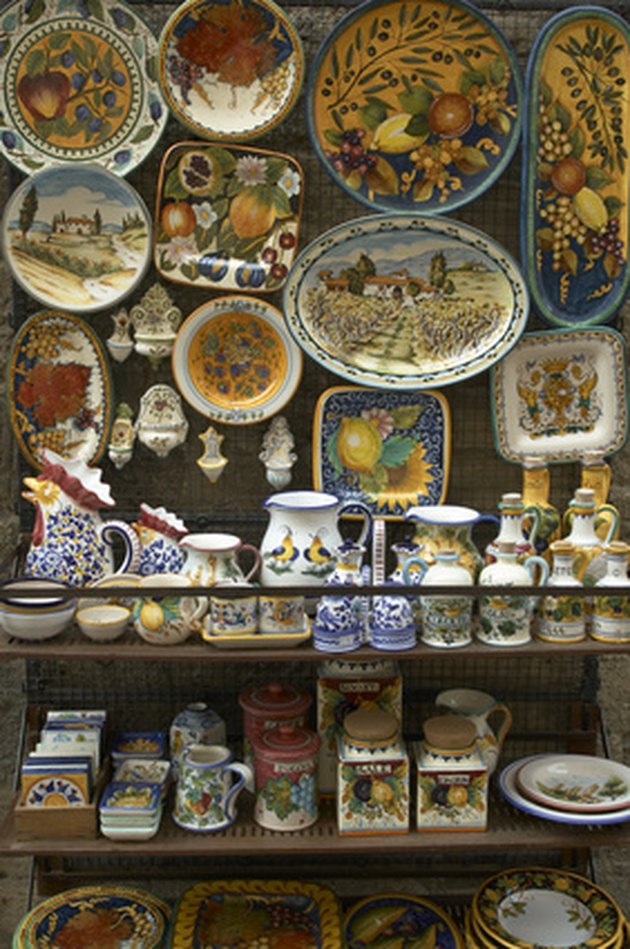 Step 1
Paint your kitchen an earthy color. Yellow and pale rust are popular Tuscan colors. Mix a glaze using a latex-based glazing medium and raw sienna tint for yellow walls or burnt sienna tint for rust walls. Apply this tint with a wide brush in an all-over pattern of brush strokes, a technique called color washing.
Step 2
Replace flooring with terracotta tiles. Include painted accent tiles or decorative trim tiles for a more elegant look.
Step 3
Install counter tops made of natural stone. Choose a color that will coordinate well with your walls and fit your budget. Avoid any surfaces that require a lot of care, as a Tuscan kitchen should be functional, not fussy.
Step 4
Hang a wrought iron pot rack from your ceiling. Use this for your most attractive pots and pans, including copper cookware.
Step 5
Choose a large, wooden farmhouse table that will age nicely with wear. Opt for the largest size that will fit comfortably in your kitchen. Arrange it in a prominent location. Place a buffet nearby for storing wine and linens, if you have space in your kitchen. Decorate your table or buffet with a linen table runner from Italy.
Step 6
Select accessories from Italy. Display hand-painted ceramics, such as a popular rooster pattern. Choose cooking utensils made from olive wood, as they will be both durable and attractive. Place pots of rosemary, thyme, basil and oregano on a sunny windowsill or shelf to add beauty as well as a touch of Tuscan flavor to your cooking.
Step 7
Opt for window treatments in natural materials. Keep curtains simple for a rustic look. Choose natural linen or sheer cotton.