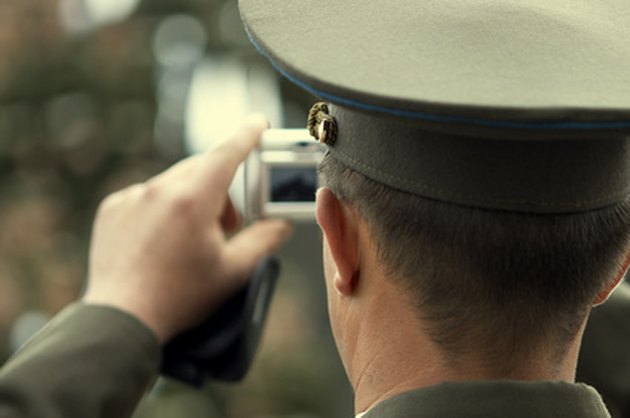 Creating a military shoebox for a returning soldier can be a rewarding experience. Family members can work together to make a memorable display case as a homecoming gift filled with added meaning. A military shadow box can include a special space for future medals, honors and memories. These boxes can be created with love and gratitude for the returning soldier as a small token of appreciation for the courageous and valiant effort soldiers endure to make the world a peaceful and better place.
Medal Shadow Box
Display medals collected during the soldier's tour of duty. You can display medals starting with the highest rank or opt to display each medal in an individual shadow box. Include a photo representing the day the medal was received as well as notes or cards received on the special day. The medals can be set on a plush velvet or felt fabric background, giving the medal the respect and honor deserved. For a remembrance display, add a flag case shadow box and include the American flag properly folded and displayed within the same case.
Insignia, Medal and Ribbon Shadow Box
Although you can design any type of military display, most shadow boxes appear as if it is following military protocol. Usually the insignia is placed at the top of the display, which then is followed by medals in a straight line, starting with the highest medal. You can also include ribbon bars, unit crests and badges. Group and display each category together such as ribbons in one section and then unit crests in another. You can also incorporate military colors for the background representing the branch. Generally, the Marines are represented by red, the Navy and Air Force in blue and the U.S. Army is displayed with black.
Uniform Military Shadow Box
Uniform shadow boxes are available in several shapes and sizes. For a retired veteran, you can display their uniform and the various stars and stripes earned during the tour of duty. You can select a specific wall in your home designated for the display. Make the uniform case the focal point and align smaller cases displaying insignia, medals, ribbons, badges, rank pins and rank coins.
Military Memento Display
Make a shadow box including photographs depicting important military career milestones as well as certificates, diplomas and commendations. You can scan a map and use colored thumbtacks featuring the locations in and outside of the United States where the soldier served as well as postcards sent throughout their service, including their boot camp location. Add photos of special military friends as well as their first photo in uniform. This shadow box will depict memorable and fond memories of the soldier's military life and career.
---
Mercedes Valladares is the founder of M721Organics and has been an independent designer for over 15 years. Her work experience commenced during college with manufacturers based in New York and Hong Kong. Her education includes LIM College, International Fine Arts College and design certification from the Paris Fashion Institute. She produces eco-crafting videos and writes recycling articles online.