Things You'll Need
Bulletin board

Ruler

Pencil

Drill

Small drill bit

Screwdriver

2 metal hole hangers

2 screws

Tape measure

Laser level

2 adhesive hooks
Tip
Pay attention to the weight capacity on your adhesive hooks before purchasing. Look for ones that hold at least 5 pounds each. Most new bulletin boards come with hole hangers. Use the ones provided, or purchase larger ones from your local hardware store.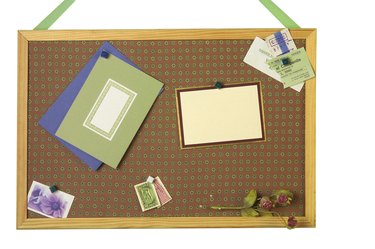 Every well-organized workspace needs a bulletin board, but for renters or dormitory-dwellers, installing nails into walls to hang things is usually not an option. When you need to hang a bulletin board securely for a temporary purpose, visit the adhesive hook department of your local home improvement store. Adhesive hooks have come a long way since their conception and some are capable of holding over 7 pounds -- perfect for a simple bulletin board that you plan to use for paper organization.
Step 1
Turn your bulletin board face down and use a ruler to measure about 4 inches down from the top edge on either side. Mark the spot with a pencil.
Step 2
Drill holes halfway into the pencil marks using a drill bit slightly smaller than your mounting screws. Take care not to drill all the way through the frame.
Step 3
Use a screwdriver to attach one medium hole hanger at each drilled spot. Set your bulletin board aside.
Step 4
Measure the width of your bulletin board between the two hole hangers, then write the measurement down. Measure an equal distance down from your ceiling or up from your floor at the height you want your bulletin board to hang on the wall. Mark the spot with a pencil. Sight a laser level at the spot across the wall using the bulletin's board width measurement. Mark the second spot with a pencil. Remove the laser level.
Step 5
Apply adhesive hooks at each pencil mark, taking care to place the top of the hooks exactly on the dots. Follow the instructions on the adhesive hook packaging to get the best adhesion. You usually need to wait 24 hours before placing any weight on the hooks.
Step 6
Slip the loop of each hole hanger over an adhesive hook to mount your bulletin board without damaging your wall with nail holes.
---
Anne Goetz shares her parenting and career experience with North American Parent, Hagerstown Magazine, c0ws.com, Lhyme.com and a variety of other online and print publications. A mother of two with a degree in communications and a long history in management, Goetz spends her spare time hiking, camping and blogging. She is the author of the site, An Unedited Life: The Ultimate Blog for Freelance Writers.