It's easy to spot vintage Rosenthal china if the piece you're holding features the company's back stamp, but suppose, for one reason or another, this mark is missing from china you suspect came from this German studio? You'll need a game plan for your investigative efforts but--depending upon the amount of energy and cash you wish to expend--your journey won't take long. Your reward? Opportunities to tell friends and family that you own a piece of history from one of Europe's most famous china manufacturers.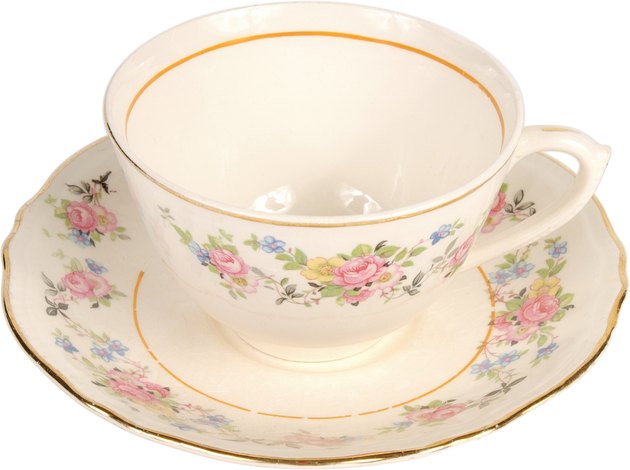 credit:
Hemera Technologies/PhotoObjects.net/Getty Images
Step 1
Get help from sales personnel at top department stores carrying the Rosenthal china brand by asking if sales associates can identify your china pattern(s). Alternately, have them direct you to the nearest Rosenthal China Co. sales representative at one of the company's many showrooms at major merchandise hubs such as New York, Dallas, Chicago, Boston and Los Angeles.
Step 2
Find china identification pattern guides and textbooks on library shelves. Absent the inclusion of items bearing the Rosenthal brand within the pages of texts in your local library's collection, ask a reference librarian to track down one of the definitive tomes on this German brand and have them procure the book for you through your community's interlibrary loan system.
Step 3
Use the internet to guide your search for the identity of inherited, antique shop and swap meet finds if you suspect it's an unmarked member of the Rosenthal library of designs. Use online links to start your search by comparing your china pattern to art that's grouped by year, going back to 1921, when artisans at the Rosenthal Studios produced fine china in small production batches.
Step 4
Pay a fee to have your china identified by a professional appraiser, but don't find an authority haphazardly. Turn to respected organizations like the Appraisers Association of America (AAA) in New York City or the Virginia-based American Society of Appraisers (ASA), and either group will be happy to point you in the direction of a reputable local appraiser within each organization's network.
Step 5
Refrain from contacting Rosenthal by email to ask if the china pattern in your possession is authentic; corporate policy states that personnel may not quote or authenticate company product online, no matter how old or rare a piece may be. That stated, Rosenthal representatives will be happy to comment on the care and feeding of your china once it's positively identified, so don't drop the corporate site from your bookmark list.
Step 6
Turn to collector clubs focused on limited-edition china patterns. Contact Rosenthal to locate a club in your region as enthusiastic collectors are often as knowledgeable about their passion as are appraisers. Find an avid collector to point you in the right direction, and it won't cost you a dime.