In the 1950's, innovation, whether it was in automobiles, in homes or in fashion, was everywhere. It was precisely during this time that Americans began to set out meals on colorful, unbreakable and lightweight dishes called Melmac. This popular dishware appeared in many patterns and colors, but Texas Ware, or Dallas Ware, were among the most popular because of their appealing solid pastels, bright colors and distinctive patterns. By knowing what to look for, identifying these pieces of Americana is a straightforward process.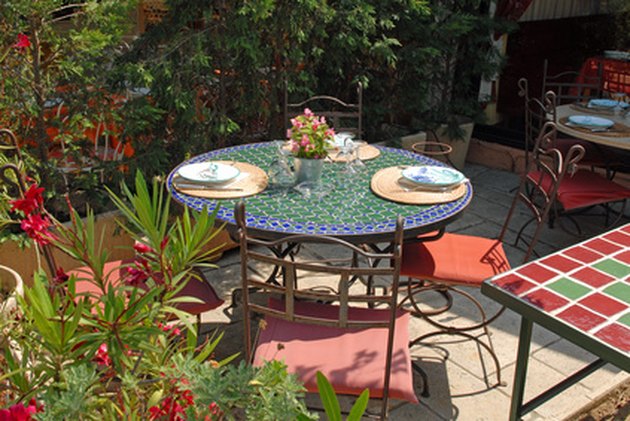 Step 1
Turn plastic tableware over to examine the back for stamps or other markings; use a magnifying glass, if necessary. Authentic Texas Ware is backstamped with the words "TEXAS WARE" with "Plastics Manufacturing Co." above the name and "Dallas, Texas, USA" below. Generally the name "TEXAS WARE" is horizontal and the other identifying words form a circular pattern around it. Some Texas Ware, especially mixing bowls, were stamped with a number such as 170 or 180 to indicate the size.
Step 2
Note that Texas Ware pieces were deliberately made to be stackable so that storage became simpler. Many of the pieces were sold in sets like three mixing bowls in graduated sizes. Even more innovative was the adoption of the shallow cup shape with tapered sides that allowed stacking of cups and serving bowls, as well as dessert and cereal dishes.
Step 3
Learn to identify Texas Ware Melmac spatter or confetti patterns generally found in mixing bowls. These multicolor designs on white or beige backgrounds were the result of saving the bits of melamine left over at the end of a production day and using them together to inject and mold the final products. The result was a confetti-like pattern or a spatter of multicolor droplets.
Step 4
Look for sets of tableware in unusual pastels colors such as gray and chartreuse, as well as brights like orange and red. A variety of patterns appear in Texas Ware, including basketweave backgrounds with farm symbols, white backgrounds featuring flowers and delicate borders, and popular patriotic symbols like stars and stripes. Texas Ware plastic trays in solid colors or spatter patterns were often used by school and hospital cafeterias.