Tip
Contact Frigidaire customer support at 800-374-4432, Monday through Sunday, 8 a.m. to 8 p.m., Eastern time.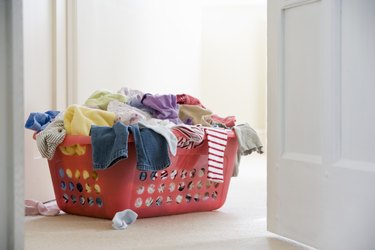 Many of Frigidaire's dryers are front loaders with lighted control panels. As of October 2011, the Affinity class, or family, of gas and electric dryers makes up the bulk of these appliances. These highly- igitized dryers allow for the fine-tuning of the cycle, temperature and dryness levels for each load of laundry. However, if you try to change or interrupt the dryer after a cycle has started, you might experience blinking lights on the control panel. You can avoid these flashing indicators by following a few procedures for the three aforementioned selections that you might frequently change for each load of laundry.
Step 1
Press "Cancel" on the panel if you want to change to a different cycle after a previously selected cycle has started. Turn the cycle selector knob in the direction of the new cycle. Press "Start" to resume drying.
Step 2
Press "Pause" if you want to change the temperature. Press the "Temp" button to select a new temperature. Press "Start" to resume drying.
Step 3
Press "Pause" if you want to adjust the dryness level. Press the "Dry Level" buttons to scroll through and select another dryness level. Press "Start" to resume drying.
---
Damarious Page is a financial transcriptionist specializing in corporate quarterly earnings and financial results. Page holds a medical transcription certificate and has participated in an extensive career analysis and outplacement group workshop through Right Management. The West Corporation trained and certified him to handle customer support for home appliance clients.