Things You'll Need
GE Profile dryer

Putty knife

Screw driver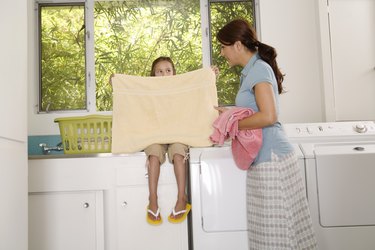 Taking your GE dryer apart is necessary to make repairs. Familiarizing yourself with your dryer can save you hundreds in repair bills. Look at your dryer and recognize the different components. Read your owner's manual to learn the maintenance schedule for your machine. Simple maintenance, such as cleaning the vent duct annually, will help prolong the life of your machine and save you money on energy bills.
Step 1
Disconnect the dryer from the electrical outlet and pull the unit away from the wall.
Step 2
Locate the lower panel near the bottom on the back of the machine and remove the screws with a screw driver. Put the screws to the side.
Step 3
Remove the front panel of the dryer by inserting a putty knife to push back the spring clips located on each side of the dryer. This will release the clips. Lift up the cabinet top.
Step 4
Open the door to the dryer and remove the screws, setting the screws to the side.
Step 5
Loosen the two screws on each side of the bottom panel, and remove them. Remove the screws at the top of the panel.
Step 6
Unplug the connector wires that connect the door, by pulling them out at the base. Lift up on the front panel, removing it. The machine is now ready to work on.
Tip
Always ensure that your dryer is elevated when installed in the garage. It should be elevated 18 inches off the ground.
Warning
Never use a plastic vent duct. Always keep tools out of the reach of children.