Things You'll Need
Kenmore Elite steam dryer

Up to five garments to be freshened
Tip
Your Kenmore Elite Steam dryer is equipped with a rack to dry sweaters, plush toys or tennis shoes. To use the rack, open your dryer door and slide the rack into your Kenmore dryer so that the front of the rack sits in the lint filter housing and the rack's back legs rest on the rear wall of the dryer just above the drum. Set the items you want to dry on the rack and set the dryer cycle to "Rack Dry."
Warning
Never open the dryer door during a steam cycle or severe burns may result.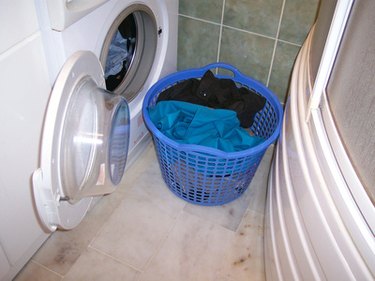 Kenmore Elite steam dryers are sold by Sears and are made by Whirlpool or Frigidaire and marketed under the Kenmore brand name, which is the name Sears uses for all of its Sears' brand appliances. The steam refresh cycle on Kenmore steam dryers is similar to dry cleaning without the cleaning chemicals. If you have clothes that are clean and just need to be freshened up, you can run them through this cycle and save yourself an expensive trip to the dry cleaners.
Step 1
Turn on your Kenmore Elite Steam dryer by pressing the power button located at the far left side of the control panel.
Step 2
Turn the cycle selector knob located in the center of the control panel until the "Steam Refresh" cycle lights up.
Step 3
Press the button at the top of the control panel labeled "Static Shield" if you want extra steam injected during the cycle to eliminate any static cling from your fabrics.
Step 4
Press the button labeled "More Time" if you are loading more than three garments into the dryer, press the button labeled "Less Time" if you are loading less than three garments into the dryer until the number displayed matches the number of garments you are loading into the dryer. The display will default to three garments. You can run the steam refresh cycle with up to five garments. Open the dryer door and load your garments.
Step 5
Close the dryer door and press the "Start/Pause" button on the far right side of the control panel to begin the steam refresh cycle.
---
Based in Grand Rapids, Michigan, Elizabeth Grace is a freelance writer. She holds a Bachelor of Arts in public relations from Pepperdine University, and has 15 years of experience developing marketing campaigns for universities and multinational corporations.