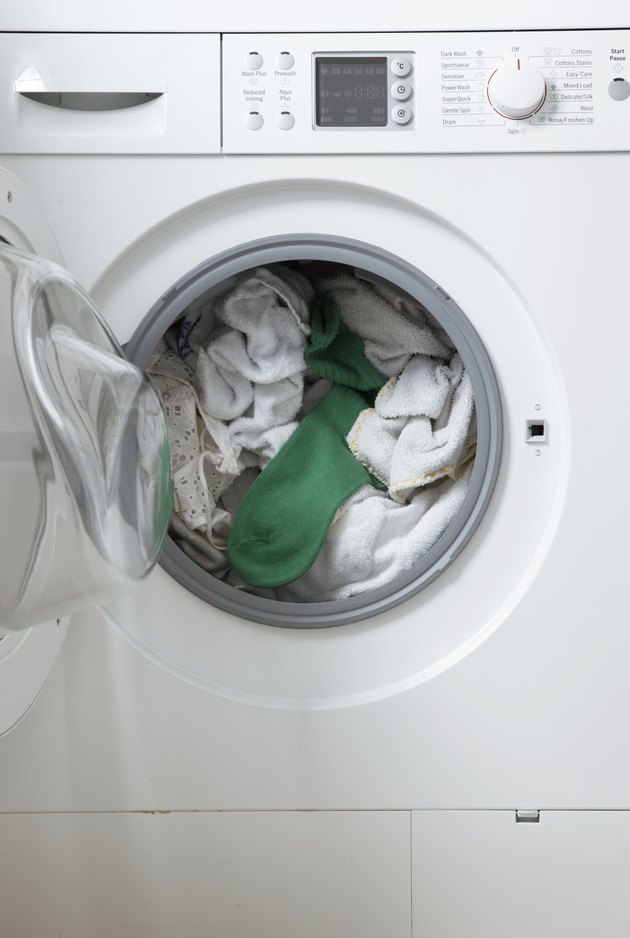 LG's washing machines display alphanumeric codes via the built-in LCD display in the event of a fault or problem with the appliance. The "LE" code, which indicates a problem with the motor, sometimes appears in error and may be successfully resolved without replacing parts or making complex adjustments. If your machine shows an "LE" error code, LG recommends some troubleshooting methods to fix the problem.
Step 1
Unplug the washing machine, hold "Start/Pause" for five seconds and re-connect the power. Run a rinse and spin cycle to see if the LE code re-appears; newly installed washers sometimes display an erroneous motor error that is resetting the appliance easily removes.
Step 2
Open the drum and look for an excessive amount of suds among the clothes. Using the wrong detergent clogs the machine with suds and often produces an LE error code. Use the correct amount of non-HE washing machine detergent for best results. Unplug the washer for 30 minutes to allow suds to dissipate, re-connect the power, tap "Spin Speed" until "No Spin" is selected and press "Start/Pause" without selecting a wash cycle – the appliance drains itself of any remaining liquid. Remove the clothes and select a "Rinse and Spin" cycle to clear any remaining suds or detergent residue. Repeat the empty "Rinse and Spin" cycle if necessary.
Step 3
Do not select a large washing cycle in conjunction with the "Delicates," "Perm Press," "Hand Wash" or "Wool/Silk;" these cycles are intended for use with small amounts of clothes and may produce an error if a full load of clothes is detected in the drum.
Step 4
Remove bulky items such as duvets, curtains, blankets and other upholstery from the drum, the motor could be overloaded. Avoid packing the drum full of the clothes and instead leave a space for clothes to tumble during the wash. Try the cycle with fewer items or unplug the dryer for half an hour to let the motor cool.
---
Jon Stefansson has been a professional writer since 2009. He is currently freelancing as an advertising and web copy writer for several Canadian and American clients. Stefansson graduated from Staffordshire University, England, with a Bachelor of Arts in broadcast journalism. He has freelanced for several British radio stations as a news reader and sports producer.