The Whirlpool Ultimate Care II washing machine has a large capacity drum and numerous wash options. It also comes equipped with Whirlpool's AccuWash temperature sensor, which controls the temperature of the water coming into the machine. If you run into a problem with your Ultimate Care II washer that you don't know how to fix, don't waste time waiting on hold for customer service. Instead, try to find a solution to the problem on your own. Additional help is available at Whirlpool's website (see Resources).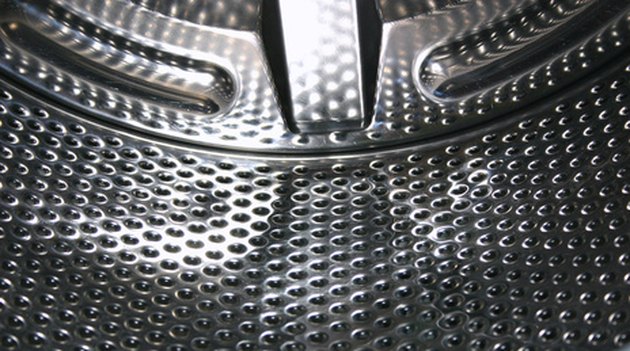 If your Whirlpool Ultimate Care II washer is leaking, make sure all the fill hoses are tightened and that the fill hose washers are seated properly. Ensure that the drain hose clamp is properly installed. The sink or drain may be clogged. Verify that your sink and its standpipe can handle 17 gallons of water per minute. Water may also be deflecting off of the tub ring or the wash load. Be sure to center the tub before you begin washing and always balance the wash load. The feet of the washer need to be level. If none of these steps solve your problem, check that your household plumbing does not have a leak.
Washer Won't Fill, Rinse or Agitate
If your Whirlpool Ultimate Care II washer suddenly stops and then won't fill, rinse or agitate, you should check that the power cord is plugged into a three-prong outlet and that the indicator on the Cycle Control knob is properly lined up with a cycle. Never use an extension cord with your washer. Verify that the water inlet valve screens are not clogged and that the hot and cold water faucets are both turned on. Check for any kinks in the water inlet hose. Remember that the washer will pause for approximately two minutes during certain cycles and that the machine will not work if the lid is open.
Washer Does Not Drain or Spin
If your washer will not spin or drain, there may be a clog in the drain hose. Also, verify that the drain hose is not more than 96 inches above the ground. The lid must be closed for the washer to run. Excessive sudsing can also lead to problems with spinning and draining. Make sure you always measure the detergent correctly and follow the manufacturer's instructions. Use less detergent if you have soft water.