Things You'll Need
Slip-joint pliers

Putty knife

Phillips screwdriver

Nut driver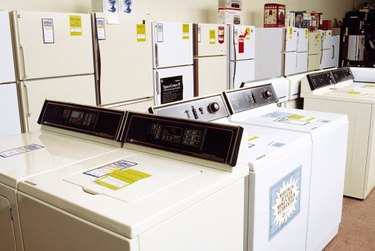 GE is a popular brand of washing machine. Sometimes a repair is needed on a GE washing machine that requires taking it apart. The cabinet on a GE washing machine disassembles easily so you can gain access to any of the parts inside. The cabinet is in three parts: the top, the front panel and the rear panel. All three parts are removed without much effort and by using just a few basic tools.
Step 1
Unplug the electrical cord from the wall outlet. Unscrew the water hoses from the fittings on the back of the machine using a pair of slip-joint pliers. Remove the drain hose from the sink. Pull the washer away from the wall.
Step 2
Slide a putty knife between the top of the washer and the front panel about 3 inches from the left corner. Feel with the knife for a spring clip and press in on it with the putty knife to release it. Pull up on the top slightly on the left side and use the putty knife in the same way on the right side to release the clip on that side. Pull up the top, then flip it back and lean it against the wall.
Step 3
Unscrew the screws on the top of the front panel using a Phillips screwdriver. There will be one or two screws on each side of the top of the front panel. Remove the screws at the bottom of the front panel if there are any. The screws might be under a kick plate that is on clips that can be pulled out by hand. Pull out the front panel and set it aside.
Step 4
Remove the screws that hold on the back access panel using a nut driver. The panel is held on with four screws. Lift off the panel and set it aside.
---
Damon Koch has years of writing experience ranging from software manuals to song lyrics. His writing has appeared in software manuals for Human Arc and on the CDs "Small Craft Advisory" and "Impersonating Jesus." He also has worked in building maintenance since 2004. He has attended Lorain County Community College as well as Cleveland State University.