A refrigerator cover is a decorative way to keep your fridge clean when it is not in use. The cover is essentially a wrap for the refrigerator, similar to a blanket with a tab on the upper side to cover the refrigerator's top. The cover is held closed with Velcro, making it easy to open. Unlike commercial covers, you can select any fabric that you want for your homemade version.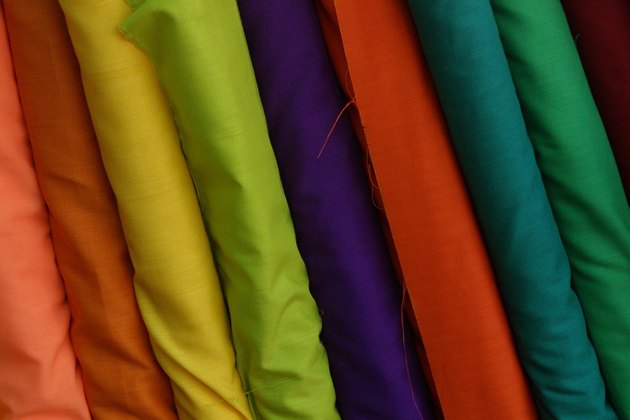 Step 1
Measure the height and diameter of your refrigerator. Add 18 inches to the diameter measurement.
Step 2
Cut pieces of fabric to the length of the refrigerator. Line enough pieces up side-by-side to match the modified diameter measurement.
Step 3
Sew the pieces of fabric together with a sewing machine to create one large piece of fabric.
Step 4
Measure the width and depth of the refrigerator top. Add 12 inches to the depth measurement.
Step 5
Cut another piece of fabric to the above measurements.
Step 6
Sew this piece of fabric to the top of the large piece, centered with the width measurement connecting to the large piece. The result will be a tab extending from the top of the large piece.
Step 7
Cut pieces of double-fold bias tape to fit each of the cover's edges.
Step 8
Pin the bias tape to the edges of the cover, folding the tape over each edge so that half is on the front of the cover and half is on the back.
Step 9
Sew the bias tape to the cover with a sewing machine, removing the pins as you work. This will prevent the edges from unraveling.
Step 10
Wrap the cover around the refrigerator, draping the tab over the top before closing the cover over the front. There will be some fabric overlap in the front.
Step 11
Hold the cover closed in the front and apply several 12-inch pieces of stick-on velcro under the outer edge. The velcro will connect the outer flap to the fabric beneath it, holding the cover closed.
Step 12
Open the cover again and sew the velcro in place.