Things You'll Need
New KitchenAid glass door

Masking or duct tape

Old cloth (tablecloth, sheet, towel)

Standard screwdriver set (T-10 through T-25)
Tip
Refer to your oven manual to check for placement of the parts.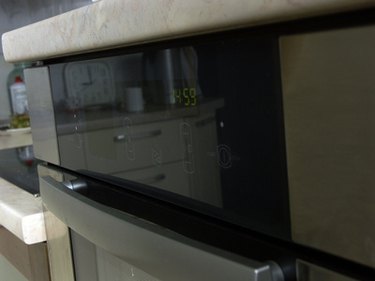 Appliances make the daily routine run smoothly and efficiently. But if one of the appliances breaks or stops, it can feel like a catastrophe. Sometimes getting a certified professional to do the repair could represent an over-the-budget cost. If your KitchenAid oven door glass breaks, you can replace it yourself.
Step 1
Remove the hinge securing the glass door to the oven, if there is one. Tape over the broken glass to prevent it from falling out.
Step 2
Remove the glass door from the oven. Lay it on the floor on the old piece of cloth.
Step 3
Remove the outer screws, starting from the lower side of the panel, then continue by removing the screws from the inside. Please take note of the order of the screws so you know how to replace them properly. Remove the frame that holds the glass in place and remove the broken glass insert, making sure the insulation strip and the gasket stay in place.
Step 4
Insert the new glass into the door and reattach the door to the oven by reassembling and reinserting the screws in the same order you took them off.
---
Lorena Gonzalez started her writing career in 2010. Her areas of expertise are related to the education field. She holds a Bachelor of Arts degree in education specializing in foreign languages from Zulia's University.