Things You'll Need
Screwdriver

Dish soap

Old towel

Wire brush

Steel wool or mesh pad

Pipe cleaner or plastic stirrer

Clean hand towel

Spray-on cooking oil
Warning
Use caution when cleaning sharp pieces, such as the metal disc. The edges will be raised and can cut skin.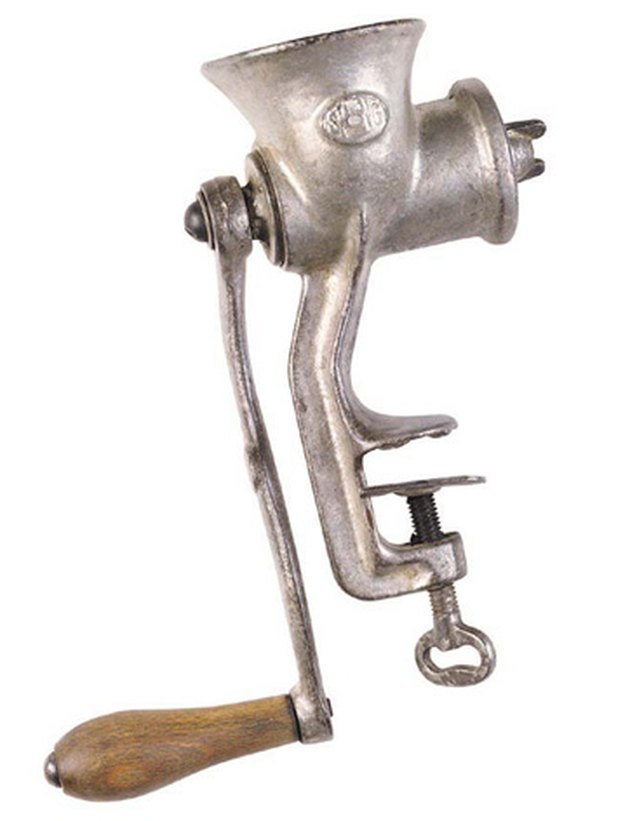 Cast iron is malleable metal and part of a group known as ferrous alloys. Without proper maintenance, oxygen works on the properties of the cast iron to form rust. Left unchecked, rust will degrade the metal until it breaks apart. From the outside, a grinder appears to be one solid unit. Once disassembled, you find many internal components, such as a grinding disc and turning screw. These pieces are responsible for mincing food. The best way to avoid rust on your cast-iron grinder is through proper cleaning. Once the rust forms, a little elbow grease will strip it off.
Step 1
Take the grinder apart. The method will depend on the style grinder. Look for butterfly nuts or screws that will free the plate and release the components.
Step 2
Soak all parts in a sink full of hot, soapy water. Use a mild detergent, such as dish soap. Leave the parts in the sink for 30 minutes. This will remove some of the surface rust.
Step 3
Remove the grinder parts from the sink and hand-dry them with a clean, old towel. There will still be rust on the metal that will stain the towel. Use something you don't mind ruining to dry the pieces.
Step 4
Scrub the surface of the metal with a wire brush. If you have a wire attachment for your drill, it will work as well. Set the tool at a low speed to avoid scratching and damaging the surface. Run the wire from the brush or tool over each component until all remaining rust comes off.
Step 5
Clean the components with a mesh or steel wood pad under running water. Poke holes in the grinder disc with a stirrer or pipe cleanser to loosen embedded dirt and rust.
Step 6
Wash the components in soapy water and dry thoroughly with a clean towel.
Step 7
Apply a thin coat of spray-on oil to each piece before reassembling the grinder. This will protect the metal surfaces from future rusting.
---
Writing since 1999, Darla Ferrara is an award-winning author who specializes in health, diet, fitness and computer technology. She has been published in "Mezzo Magazine" and Diet Spotlight, as well as various online magazines. Ferrara studied biology and emergency medical technology at the University of Nebraska and Southeast Community College.