Home appliances are standard features in residences across the country and help households make food, control climate and clean rooms. Home appliances include refrigerators, ovens, heaters, air conditioners and vacuums. BusinessWire.com is a Berkshire Hathaway company which rated General Electric (GE), Kenmore and Bissell as the top home appliance manufacturing companies in the country, and all were invited to participate in the Connected Home Appliances TechZone in 2011.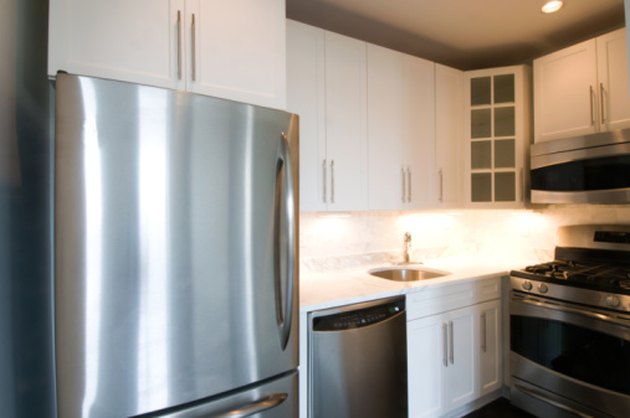 GE was founded in 1982 and is involved in the appliance, aviation, energy, media and healthcare industries. GE manufactures a number of home appliances for consumers, including refrigerators, dishwashers, water heaters, air conditioners, ovens and microwaves. The company has quite a few Energy Star appliances that are energy efficient and that reduce monthly energy bills. Specials and rebates are available throughout the year to save consumers money and to help them update the appliances in their homes. Customer service is available online 24 hours a day, and GE appliance repair technicians are available throughout the country to ensure a GE appliance is working properly.
Kenmore started in 1927, and its first appliance was a wringer washing machine that was sold at Sears. Kenmore makes a variety of small kitchen, cooking and home appliances. In addition to refrigerators, dishwashers, ovens and washers and dryers, the company manufacturers blenders, food processors, mixers, coffeemakers and tea kettles. Many of the larger appliances have earned an Energy Star designation from the U.S. Department of Energy and U.S. Environmental Protection Agency. The company reports that households using appliances more than 10 years old are paying about $145 more per year than those with Energy Star appliances.
Bissell was founded in 1876 and manufactures appliances to help consumers keep a clean living environment. Bissell focuses on cleaning appliances, and some of its products include deep cleaning machines, vacuums, steam cleaners and power brushes. In addition to appliances, Bissell also manufactures a variety of cleaning accessories, including cleaning formulas, sweepers, upholstery cleaners and pet cleaners. The company is involved in a number of community activities with the Ronald McDonald House, Tour de Force, North Shore Animal League America and Partners for Pets.