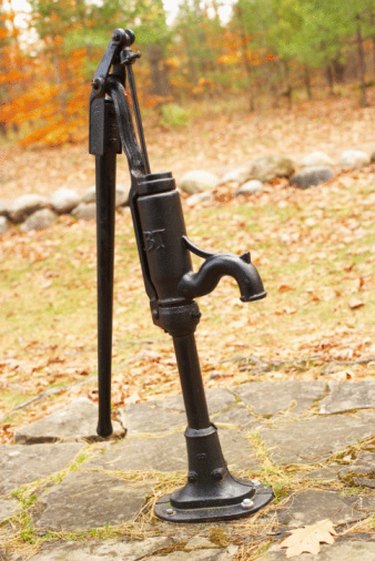 Turning on your sink, shower or bathtub water faucet to find a light to deep red color can be unappealing and frightening. However, a red color in well water is nothing to worry about. The red color is caused by iron within your water. The iron can contaminate your water in several different ways, and you can treat it with different methods. Though it poses no serious risk to your health, red water can stain sinks, toilets, showers, bathtubs, laundry and flatware.
Causes
Rainfall and snow melt-off seeps through the ground and drains into your well water source. As the water goes through the ground, it might pass through iron-rich soil and rock. The iron dissolves into the water and is carried into your well water. If you are aware of iron rich stones near your home, this is likely the cause of your red well water. Additionally, as water runs through pipes and well casings, it can pick up iron particles. This is most common in older pipes.
Iron Types
Different types of iron can contaminate your well water. Knowing the type of iron in your water is important if you are to judge how treat it. You have ferrous iron if you turn on your faucet and the water comes out clear initially but turns red when you let it sit. Ferrous iron is also called clear-water iron. However, if the water is red initially, the type of iron in your water is called ferric. Ferric iron is also called red-water iron.
Testing
Most stores do not sell at home testing kits to detect iron content. However, you can contact a private laboratory and have the water tested for a small fee. Alternatively, you can contact your local water department and have it test the water. Testing is best done after you know what kind of iron is in your water, as it might involve different types of tests.
Treatment
It is most common to treat and remove clear-water iron with a water softener. A softener is meant to remove water hardness, not iron, and it will clog over time. Treatment requires frequent replacement of the water softener. Treating and removing red-water typically involves using a water filter. The water filter is designed to specifically remove iron contamination. Alternatively, if you find that your pipes are the cause, you can replace them, although at a high cost.
---
Serena Styles is a Colorado-based writer who specializes in health, fitness and food. Speaking three languages and working on a fourth, Styles is pursuing a Bachelor's in Linguistics and preparing to travel the world. When Styles isn't writing, she can be found hiking, cooking or working as a certified nutritionist.