An over-the-range microwave helps economize space as it fits over your stove and eliminates the need to set aside precious counter area in your kitchen for the appliance. When shopping for an over-the-range microwave, look at what features it offers, its design and what kind of help and support the manufacturer provides. As of 2011, an over-the-range microwave can cost anywhere between $200 to $1,000. Here are some of the highest rated models from 2011, according to Top Ten Reviews, CNET and Consumer Search.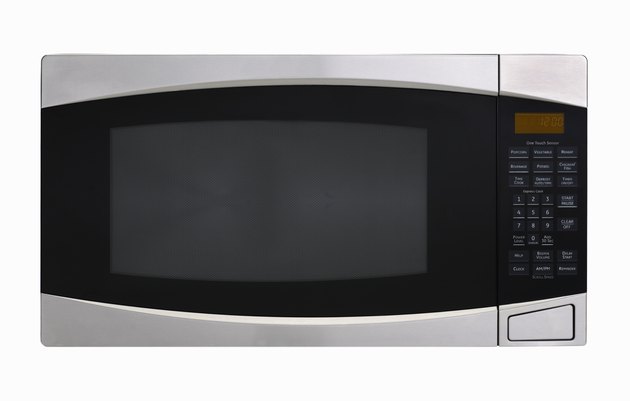 credit:
Ryan McVay/Photodisc/Getty Images
The Whirlpool WMH2175XVS is a simple model to operate and offers value for its relatively low price tag, around $260 as of 2011. Although this model does not offer a convection option, it does have a larger capacity (1.7 cu. ft.) than many similar models, holding up to four plates at once. It also offers the 6th Sense Sensor Cooking feature that monitors the level of humidity in the food you're cooking and automatically adjusts the heat and time so your food comes out perfectly cooked.
A somewhat more expensive option is the Sharp R-1874, around $660 as of 2011. While this model does have a smaller capacity than many other over-the-range microwaves at 1.1 cu. ft., its convection feature makes up for the lack of space. In a convection oven, fans help increase airflow, which means your food will heat faster. If you have a smaller kitchen, the sleek design is an advantage of this model.
The Samsung SMH9187ST is another inexpensive over-the-range microwave that is considered one of the best by Consumer Search, with a price tag of around $260 as of 2011. This model is especially suited for families with its "Kids Meals" one-touch option that allows you to heat up kid-friendly food, such as chicken tenders. Although this model does not have a convection feature, the Samsung SMH9187ST offers an extensive venting system that helps draw smoke and heat from the stove below, as well as a 1.8 cu. ft. capacity.
General Electric PNM1871SMSS
The GE PNM1871SMSS is a top-rated microwave by Top Ten Reviews, especially for kitchens that feature stainless-steel appliances. It costs roughly $500 as of 2011 and features a 1.8 cu. ft. capacity. Although it lacks a convection option, the GE PNM1871SMSS features its Circuwave cooking system. This innovation helps distribute microwaves more evenly throughout the appliance to cook food more efficiently.