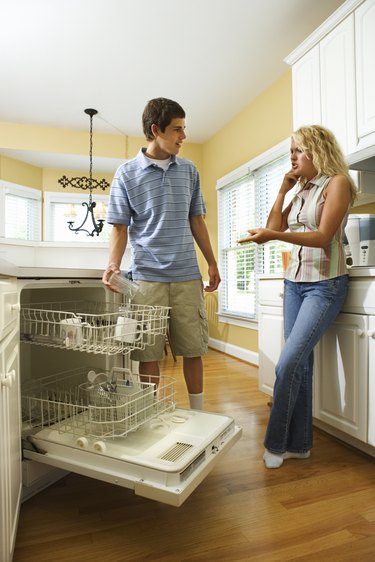 Dishwashers contain plastic parts. When you install a new LG dishwasher, it may emit a plastic odor, which can vary from strong to mild depending on the size of your kitchen, the ventilation and the dishwasher itself. After time, this odor should dissipate. If the odor remains, another problem could be to blame and you will need to repair and clean the dishwasher.
Causes
The plastic odor should dissipate after several weeks and multiple uses of a brand new dishwasher. If the smell does not dissipate, simply cleaning the dishwasher with vinegar may remove the last of the linger odor. However, if you suddenly notice a strong burning plastic smell in an older dishwasher, the problem could be melted plastic inside the appliance. Plastic dishes can fall through the dish rack and land on the heating element. You must remove the plastic as soon as you notice the smell.
Removal
Turn your dishwasher off immediately as soon as you smell a strong odor of burning plastic. Open the door, leaving it slightly ajar, and allow the heating element to cool completely. Once the heating element cools, remove the bottom dish rack and gently scrape the burnt plastic off the heating element with a plastic or wooden spatula.
Cleaning
White vinegar can neutralize any remaining plastic odor, due to either a new appliance or a melted plastic dish. Add 2 cups of white vinegar to a glass dish, and place the glass dish at the bottom of the dishwasher. Set the dishwasher to a normal cycle and an "air dry" finish. Allow the dishwasher to run empty through one full cycle. Remove the vinegar and add your normal dishwashing liquid. Run the dishwasher through another full cycle with the air dry feature to remove any lingering vinegar odor.
Warnings
A strong plastic odor could be an indication of a serious mechanical problem inside your LG dishwasher. If you notice a strong burning odor, but cannot locate any melted plastic inside the appliance, discontinue use immediately and contact a licensed plumber. A plumber can identify and repair any problems with the appliance.
---
Amelia Jenkins has more than eight years of professional writing experience, covering financial, environmental and travel topics. Her work has appeared on MSN and various other websites and her articles have topped the best-of list for sites like Bankrate and Kipplinger. Jenkins studied English at Tarrant County College.