Things You'll Need
Replacement fuses (if needed)

Liquid drain cleaner

Screwdriver

Hammer

Fresh detergent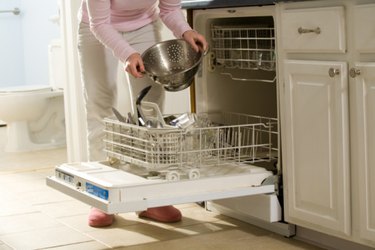 Whirlpool manufactures the Maytag Quiet Series 100 dishwasher. The dishwasher is warrantied for five years. During the first year of ownership, Whirlpool will replace any defective part free of charge. Replacement parts are provided free during the second year, but the owner is responsible for the cost of labor. After the second year, Whirlpool will provide replacement parts for the wash system, microprocessor and touch pads. The tub is warrantied for 20 years, and the stainless steel tub has a lifetime warranty. Troubleshoot the dishwasher to resolve common issues.
Does Not Fill
Step 1
Close and latch the door. Press the "Start/Cancel" key. The dishwasher will not start until the door is closed and the "Start/Cancel" key is pressed.
Step 2
Check the household fuse or breaker box. Remove black or cloudy fuses and insert new fuses, or reset tripped circuit breakers. Turn the shut-off valves on the water supply line counterclockwise to turn the water on fully.
Step 3
Remove the kick plate on the bottom of the dishwasher. Unscrew the inlet hose and remove it. Remove the water valve inlet inside the end of the hose. Clean it to remove any sediment and replace it. Reinstall the hose, making sure it is not kinked.
Does Not Drain, Water in Tub
Step 1
Make sure the wash cycle was complete.
Step 2
Remove the kick plate and check the drain hose. Remove any kinks you find.
Step 3
Check the sink for clogs if the dishwasher drains into a sink. Pour liquid drain cleaner down the drain to remove clogs. If the dishwasher drains into a garbage disposal, turn on the disposal and allow it to run until it is empty. Contact a plumber to remove stubborn clogs.
Step 4
Unscrew the drain hose if it is attached to a garbage disposal. Inspect the side of the disposal. If there is no hole, the knockout was not removed. The knockout is a small plastic piece on the side of the disposal that is knocked out so the dishwasher can drain into the disposal. Place the tip of a screwdriver on the knockout and tap it with a hammer to remove it. Reinstall the drain hose.
Detergent Dispenser Does Not Empty
Step 1
Allow the cycle to complete. Some detergent will remain in the dispenser until the cycle has completed.
Step 2
Load dishes so the dispenser is not blocked. Dishes can obstruct the dispenser and prevent it from opening during operation.
Step 3
Use fresh detergent. Store detergent in a cool, dry place. Discard old or clumped detergent.
---
Amy Kingston has been a professional writer since 2001. She has written articles for various publications, including "Health" magazine, "Jackson Parenting" magazine, the "Bolivar Bulletin" newspaper and "A Musician's Pursuit." Kingston was also published in "Voices of Bipolar Disorder."