Trane XR12 air conditioners and heaters are high-efficiency air conditioner or heater units that come in four models with seven specification settings per model. These units can be installed in homes or commercial business. Each of the XR12 models come with a five-year warranty from the Trane company. While still sold by dealers, the XR12 is no longer available on the Trane website.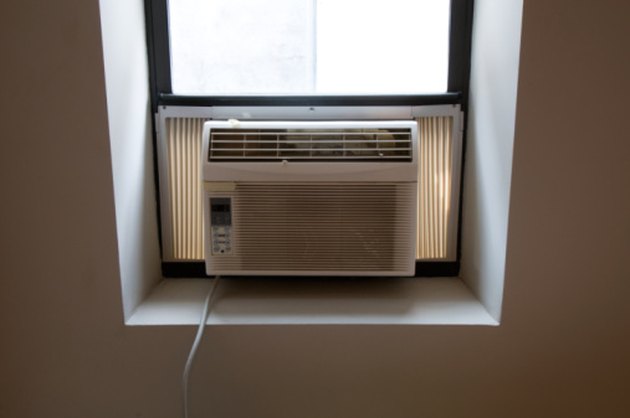 The Trane XR12 comes in two models in the air conditioning division — the R22 refrigerant and the R410-A refrigerant. In addition, the XR12 comes in two heat pump models -- also the R22 refrigerant and the R410-A refrigerant. All four of these models offer up to 13.0 SEER (Season Energy Efficiency Ratio) and 9.5 HSPF (Heating Seasonal Performance Factor) on the heat pump. These factors put this particular model in the high-efficiently air conditioner and heat pump model ranges.
All four models of the Trane XR12 AC and heat pump units have nominal tonnage of 1.5, 2.0, 2.5, 3.0, 3.5, 4.0, 4.5 or 5.0 units. They all also have nominal cooling capacity (BTUHs) of 18,000, 24,000, 30,000, 36,000, 42,000, 48,000 or 60,000 respectively. Nominal tonnage and cooling capacities measure measure how quickly the unit can convert cold air to warm air for the heat pump and warm air to cold air for the AC. The larger the unit, the more efficient it can be, depending on the size of the room. The size of the Trane XR12 units start from 26 inches in height, 29 inches in width and 26 inches in depth on the smaller end all the way up to 41 inches in height, 37 inches in width and 34 in depth on the larger end. All models of the Trane XR12 fall within those size specifications.
All Trane XR12 models include a Climatuff® compressor with full-side louvered panels. They also come standard with corrosion-resistant WeatherGuard fasteners and a torture-tested spine fin outdoor coil. A non-corrosive base pan is attached to the bottom of the units.