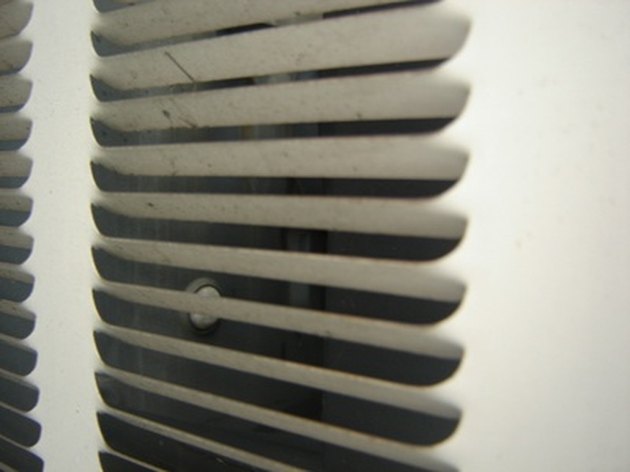 While used mostly in cars, only one home air conditioner has been made, as of November 2010, that uses R134a as a standard. As of 2010, new home air conditioners that are produced must use a refrigerant that does not deplete the ozone. While R134a is eco friendly, most new air conditioners produced in 2010 use the R410a because it is even more energy efficient and environmentally friendly.
The WeatherMaker 134A
The WeatherMaker 134A by Carrier Corporation is the first and only residential air conditioner that uses R134a as a refrigerant as of November 2010. The WeatherMaker is made in part from recycled materials and claims to make "efficient use of energy and reduces noise," according to Carrier Corporation. The WeatherMaker offers similar installation and maintenance to average air conditioners but claims to be much more environmentally friendly because the refrigerant "does not contain ozone damaging chlorine atoms," according to Hometips.com. As of 2010, similar home air conditioning systems are being produced, with refrigerants that are even a step above R134a as far as green quality goes.
Frigidaire FRA226ST2
Try the Frigidaire Window-Mounted Heavy Duty Room Air Conditioner FRA226ST2 if you are looking to be environmentally conscious.The home air conditioner uses R410a refrigerant, is backed by Energy Star and follows the U.S. Energy Guide requirements. Frigidaire claims the model operates "at a low voltage – conserving energy and saving you money." It also has a sleep mode for noise and temperature control throughout the night. Like R134a refrigerant, R410a refrigerant promises to not deplete the ozone. Energy Star certified air conditioners also use at least 10 percent less energy than standard models.
Whynter Eco-friendly 12000 BTU Portable Air Conditioner
The Whynter Eco-friendly 12000 BTU Portable Air Conditioner, another green model released in 2010, uses R410a refrigerant. The portable air conditioner can be used in any indoor room, cooling up to 400 feet, and claims to have better energy consumption than a typical air conditioner. According to Whynter, the air conditioner also "features the patented auto drain technology, which uses and recycles moisture collected during the cooling process to produce cool air." The system is lead free and can also be used as a fan or dehumidifier.
---
Melissa McCormick has been writing professionally since 2005. As a former Emmy Award-winning journalist in top 50 television markets, she has written news stories, commercial video scripts and website content. McCormick's work has appeared on Fox News Channel programs including "On the Record" and "Studio B." She holds a Bachelor of Arts in communication and political science from the University of Pittsburgh.