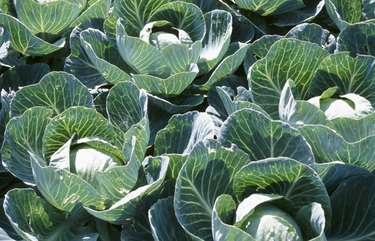 More and more home gardeners want to expand their garden to provide more food for their family. The issue may not be money, but flavor. Homegrown vegetables taste better than store bought, and you control what chemicals, if any, touch your food. Growing vegetables in Ohio is not difficult, and there is a variety of vegetables that the Ohio home gardener can add to his garden.
Leafy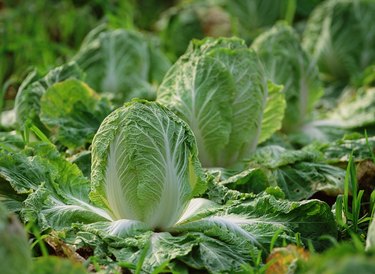 Plan to grow your leafy vegetables during the first part of the growing season. Many leafy vegetables, such as lettuce, cabbage, spinach or chard, grow better in the cooler weather. To grow these vegetables in Ohio, purchase seedlings or start your own in January. Ohio falls in zones 5 and 6, so check your specific location for planting dates. Most planting for cool weather plants happens when the temperature is between 45 and 65 degrees Fahrenheit.
Pods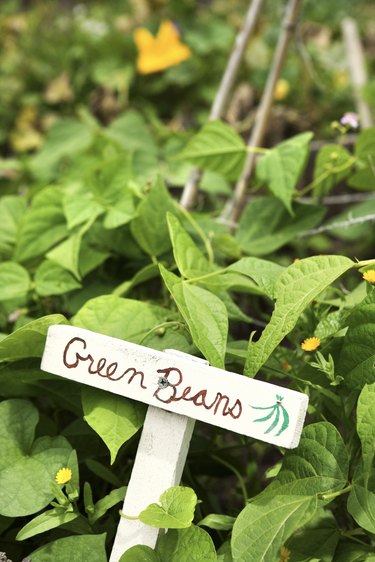 Plant plenty of pod plants, such as beans and peas, in your Ohio garden. Sow the seeds for these plants directly into the ground. Plant peas when you plant your leafy vegetables in the early spring or wait until late in the summer for a fall crop so the plants can mature in the cooler weather. Bean seeds prefer that all danger of frost is past, but peas like the cooler weather. Beans come in many different varieties, most of which grow well in Ohio soil and temperatures. Choose from bush varieties if you do not have a lot of space or pole varieties if you have a trellis for the bean plants to climb up.
Roots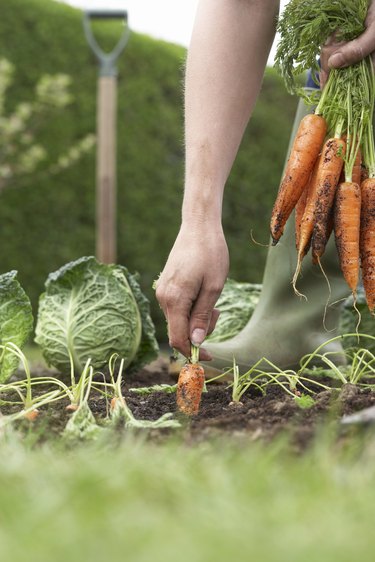 Root vegetables grow well in Ohio soil; however, the soil does need some preparation first. Make sure to till your soil well, removing any rocks. Till in an additive, such as sand, to make the soil softer and allow the root vegetables to grow straighter or develop nicer. Carrots, parsnips, beets, radishes and potatoes are all root vegetables that will grow well in your Ohio garden.
Tomatoes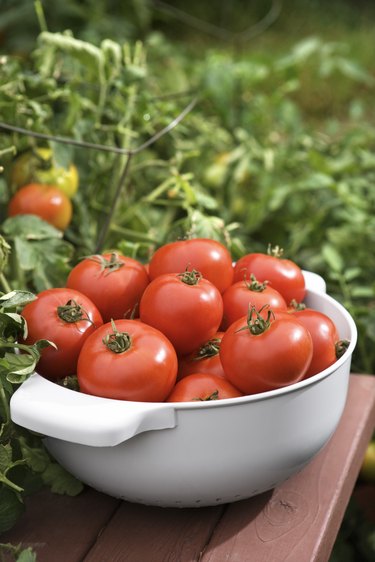 Tomatoes are a favorite among many gardeners in Ohio and all over the country. Start your tomato seeds indoors as early as January. Allow the seedlings to grow to develop strong stems and roots. You will need to harden off your tomato seeds before planting them outdoors. Harden off your tomato plants by setting them outside two to three weeks before planting. If the nights get too cold, bring the plants inside. Give the plants plenty of water while they are outside, as it will evaporate faster. When you plant your tomatoes in your garden, give them some support in the form of a tomato cage or pole.
Squash
Squash is one of the easiest vegetables to grow in your Ohio garden. Any squash plant grows extremely well in the soil and climate of Ohio. Plant different varieties of squash plants, such as zucchini, yellow squash, cucumbers, patty pan, butternut and pumpkin. Spread them out in the garden as the squash plants have a tendency to take over, and give them plenty of water. Plant squash seeds directly into the soil after all dangers of frost.
---
Ruth O'Neil has been a freelance writer for almost 20 years. She has published hundreds of articles and stories in dozens of publications including "Parentlife," "CBA Retailers and Resources," "Lookout" and "Standard." She has also worked with a publishing company editing and preparing manuscripts for publication.