A company constantly moving forward and well-known for its serious metal machines is ironically given the short shift when its name is pronounced. For the record, the chainsaw company Stihl is not "still." It's pronounced "steel." The company was built on a foundation of making professional machines that would outlast their owners. A roster of power equipment, from trimmers to blowers and the Stihl chainsaw, set the foundation for this longtime company still run by the family that started it nearly 100 years ago.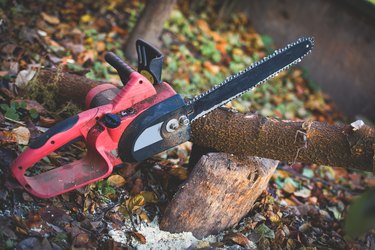 Revving History
The first chainsaw for Stihl was created in 1926 by its namesake owner. Andreas Stihl hand built the first model in Germany using steel and other heavy metals available at the time. It was electric powered and impressive. The saw needed two men to operate due to its heavy structure, weighing well over 100 pounds. Still, it made an impact on an industry struggling through the Great Depression. After making it through World War II, Stihl began using aluminum and other materials to make chainsaws more available to the public. They brought their burgeoning business to the United States and Brazil in the 1970s, expanding the tool lines to include blowers, trimmers and edgers for use in suburban homes.
Model Behavior
Many of Stihls models of chainsaws are passed down through generations, including the MS 170 and MS 290. With more than 30 models of chainsaws with 30 special features to choose from, Stihl equipment makes the best rated lists annually. The carburetors can easily be modified, making it a do-it-yourself favorite. Stihl added safety features that have earned the company a stellar reputation in the competitive market: A dual braking system to stop the chain in an emergency. The placement of rear hand guards offers a secure grip that enables you to start up the saw without worry of injury. This also offers better foot placement to be able to brace for kickback. An automatic chain and bar oiler makes for proper lubrication and subsequent less use of oil. Stihl also developed an inboard chain brake that needs less maintenance and makes it easier to get to the sprockets for removal. Through customer input, Stihl created a system to adjust the chain without tools for easier tension changes. The company reduced the number of steps to rev the chainsaw by developing a lever that not only turns the machine on but operates the choke and throttle as well.
---
Kimberley McGee is an award-winning journalist with 20+ years of experience writing for a variety of clients, including The New York Times, Las Vegas Review-Journal Home section and other national publications. As a professional writer she has researched, interviewed sources and written about home improvement, interior design and related business trends. She earned a B.A. in Journalism from the University of Nevada, Las Vegas. Her full bio and clips can be viewed at www.vegaswriter.com.
View Work