Replacing the line on your Homelite weed whacker is a cost-effective way to keep your tool in top working condition. Rather than purchasing a prewound replacement spool, which can be expensive albeit easier to install, you can purchase a bulk spool of monofilament line that is inexpensive and provides enough line for many line replacements. The whole procedure requires a few more steps than replacing the entire spool, but the extra time spent is well worth it.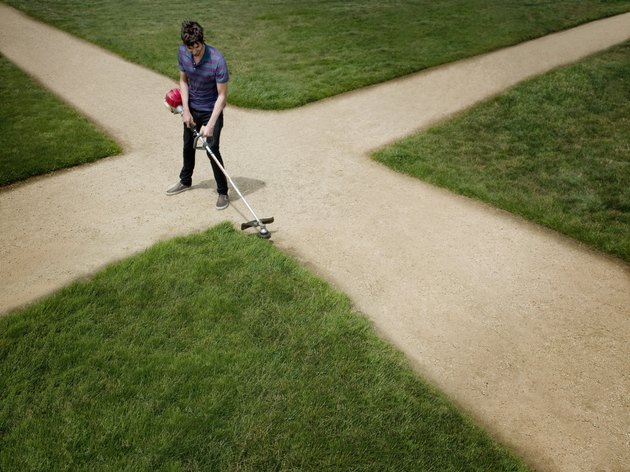 credit:
Siri Stafford/Lifesize/Getty Images
Step 1
Ensure that the trimmer is shut off and disconnected from all power. If the model is a gas-powered weed eater, remove the spark plug to avoid accidental startup.
Step 2
Push in the tabs on the side of the spool retainer, and pull the spool upward to remove it from the trimmer head.
Step 3
Remove any old string still on the spool.
Step 4
Cut two lengths of 0.065-inch monofilament line to approximately 9 feet each.
Step 5
Place the first string into the anchor hole on the top half of the spool. Wrap the string counterclockwise around the spool. Stop winding when the spool has filled to 1/4 inch from the top.
Step 6
Pull off about 6 inches of line from the spool, and insert the line into the slot in the upper spool flange.
Step 7
Repeat Steps 5 and 6 with the second piece of line, this time using the bottom anchor hole and the lower half of the spool.
Step 8
Place the spool into the trimmer head, and thread the ends of the line through the two eyelets. Pull the strings tight through the eyelets so that they are released from their holding slots.
Step 9
Install the spool retainer by pushing in on its sides and inserting it into the the trimmer head until it clicks in place.