Things You'll Need
Philips screwdriver

SAE socket set

Thin plastic sheet (kitchen wrap will do)

Auger replacement drive belts (model number specific)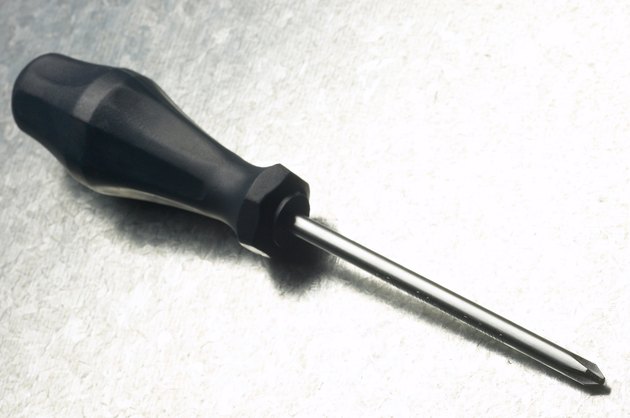 MTD Yard Machine Snow Throwers are versatile machines, capable of removing snow at a very fast pace in almost any weather conditions. Most of the stress encountered by the machine has been designed to be absorbed by the auger belts, which will flex and twist accordingly. Aside from periodic engine maintenance, this is the single most important maintenance item for any user to know how to perform to save the cost of any annual dealership service call.
Step 1
Turn off the snow blower and allow it to cool. Park it on a flat level surface, and remove the spark plug wire from the end of the spark plug to prevent accidental engine starting. Remove the gas cap, and cover the gas filler hole with a piece of plastic sheeting. Replace the gas cap and be sure that it is on tight.
Step 2
Remove the heavy plastic belt cover located on the front of the snow blower engine by removing the two self tapping sheet metal screws with a Phillips head screwdriver.
Step 3
Tilt the snow thrower fully forward, so that it is resting on the front of the housing. Remove six self tapping Phillips screws from the frame cover underneath the snow thrower body. This will expose the auger belts from beneath the machine.
Step 4
Roll both the front and rear auger drive belts off of the engine pulley with your fingers (belts should always be replaced together, to prevent unnecessary wear issues). Unhook the idler spring from the auger housing (the spring is attached to a hex bolt, and provides tension on the auger belt) to create belt slack.
Step 5
Remove the belt stop bolt which is located adjacent to the idler pulley. This will allow the belts to be removed between the bolt and auger pulley for removal. Lift, then remove the rear auger belt from the auger pulley, then slip the belt by the support bracket and the auger pulley together. Repeat this same procedure to remove the front auger belt.
Step 6
Replace both auger drive belts (front belt and rear belt) by following the instructions in reverse order. Remove the plastic from the gas cap, hook up the spark plug wire to the spark plug, then test the snow blower for normal operations.
---
Residing near the Central Florida beaches, Steven Douglas has written extensively on resolving small-business issues since 1990 in publications such as ForexFactory, Forex-Tsd, FxStreet and FxFisherman. After earning a master's degree in administration from the University of Maryland, his primary focus has been on international currency trade and how it can be effectively utilized by small businesses across the United States.