Building your own cowboy boot birdhouse is a great way to add a country-western flair to your yard and create a welcoming space for birds. It is also a wonderful way to re-purpose an old boot. Grab a few tools and spend a few hours creating a stylish home for your favorite birds. Use the other boot from the pair to create an additional birdhouse for a gift.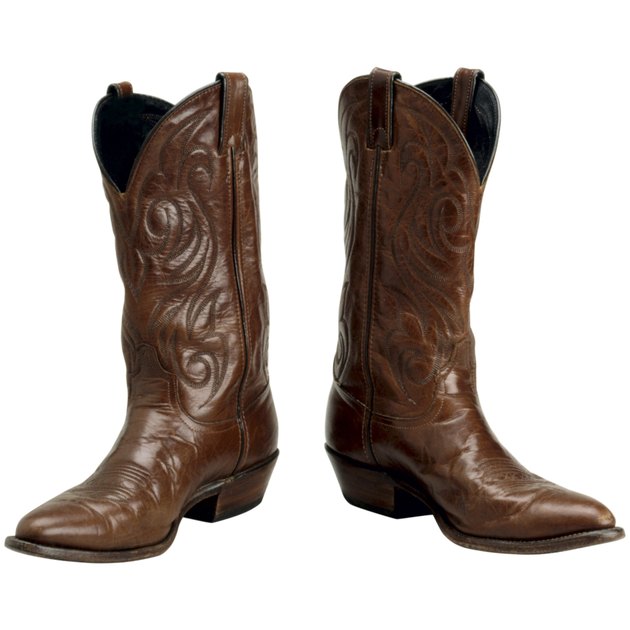 Step 1
Place a quarter halfway up the side of the boot. Trace around it with a pencil and cut out the circle with a utility knife. This will create an opening for the bird to enter.
Step 2
Drill three holes in the sole of the boot for drainage using a five-sixteenths-inch drill bit.
Step 3
Measure the length of the boot and add 2 inches. Cut two pieces from the pine board to that length using a saw. Use a protractor to mark a 45-degree angle on one end of each of the lengths of wood. Cut the ends on the marks using a saw.
Step 4
Cut a 2 1/8-inch piece and a 3 1/4-inch piece from the pine board. These pieces will serve as spacers.
Step 5
Assemble the frame by placing the two longer pieces parallel to each other with the 45 degree angles facing out. Place the 2 1/8-inch piece of wood between the long pieces at bottom. Place the 3 1/4-inch spacer 8 inches above the bottom. Nail each piece into place using two nails at each connection point.
Step 6
Cut two 6-inch lengths of cedar. These will serve as the roof of the birdhouse. Place the two cedar roof lengths together to form a right angle and connect them using six nails. Place the roof on top of the frame with the right angle pointing up and secure it using three nails on each side.
Step 7
Punch two holes at the front of the boot and two holes at the back of the boot about 1 inch from the top edge.
Step 8
Place the wooden frame inside the boot. Drill holes into the frame through the holes punched into the leather and use brass wood screws to attach the boot to the wooden frame.
Step 9
Drill two holes in the roof eaves. String a two foot length of rope through the holes and tie the ends at the top to form a large loop. Hang the birdhouse using the rope loop.