Things You'll Need
White distilled vinegar

Nylon scrub brush
Warning
Avoid using bleach to clean a bird bath because it can potentially harm the birds.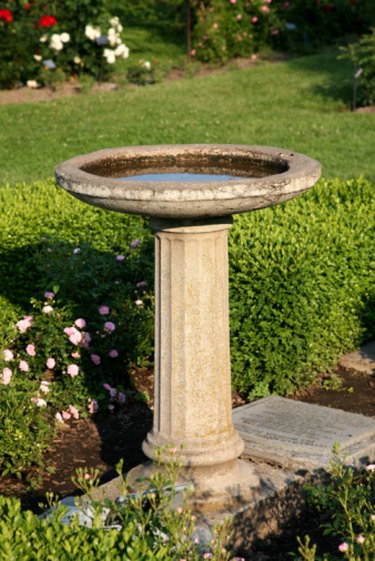 Bird baths need to be cleaned regularly to keep them sanitary and in good condition. Bird baths will often look grungy or unappealing when they are not cleaned, which takes away from their beauty. Cleaning bird baths will also help to protect the health of the birds and creatures that use it. Instead of purchasing a cleaning solution at the store, you can save money and clean your bird bath with vinegar.
Step 1
Change the water in the bird bath two to three times a week. Pour out the water and rinse the bird bath with clean water. This keeps harmful bacteria out of the bird bath.
Step 2
Combine 1 part white distilled vinegar with 4 parts water. Allow the solution to sit in the bird bath for 15 minutes.
Step 3
Scrub the bird bath with a nylon scrubbing brush to remove any lingering stains.
Step 4
Pour the vinegar solution out of the bird bath.
Step 5
Rinse the bird bath with clean water, and then fill it with fresh water.
---

Angela LaFollette
Angela LaFollette was born in raised in West Virginia, but she currently resides with her husband and children in Minnesota. She is food freelance writer and blogger as well as a full-time stay at home mother. She holds a Bachelor of Arts degree from Marshall University. Angela's work has appeared on many online publications like Yahoo!, eHow, and Leaf Group.