John Deere manufactures the L120 model of garden tractor with either a manual or an automatic transmission. An integral safety interlock system will not allow you to start the engine and engage the blades unless all safety devices are in the correct position. Check to make sure all items are in the correct position, start the engine and lastly, engage the mower blades.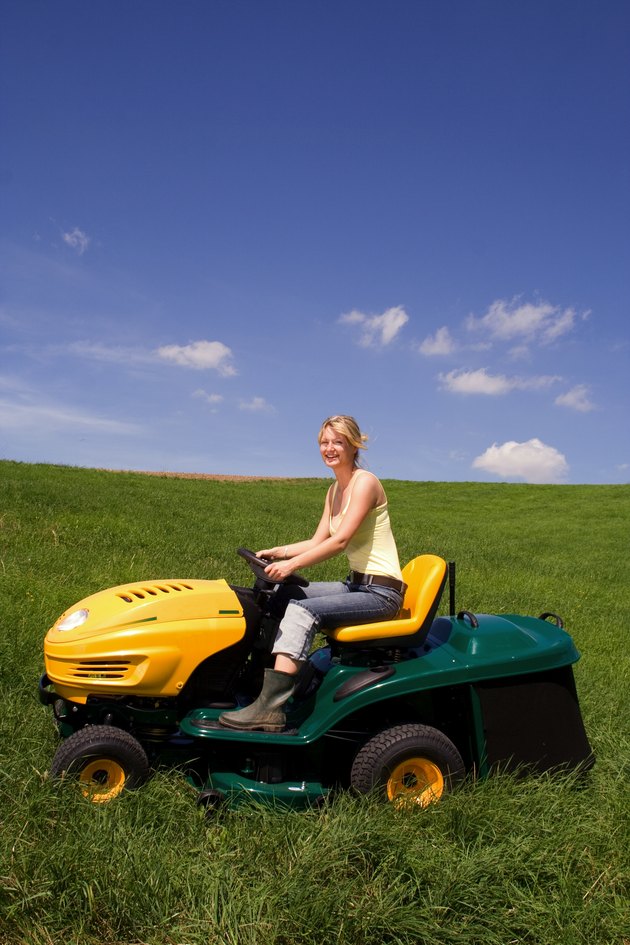 credit:
rainer hase/iStock/Getty Images
Walk to the rear of the lawn tractor with an automatic transmission. Push the free wheeling lever, in the rear-center of the lawn mower, inward. This lever pulls out to allow you to push your lawn mower outdoors to start it. It allows unrestricted movement of the mower and enables it to roll freely by disengaging the transmission. You should never start a lawn mower in an enclosed area. If the lever remains pulled out, the engine will not start.
Sit down in the operator's seat. A safety interlock switch lies underneath the seat and it presses down when weight is in the seat. The engine will not start without sufficient weight. This safety feature makes certain that the engine stops immediately if an operator falls from the seat while in use, or a child tries to start the lawn tractor.
Apply the parking brake by pressing the lever in front of your left foot entirely forward on models with a manual transmission, or your right foot on automatic transmission models of the L120 tractor. It will lock in place when you remove your foot. The parking brake must be engaged for the engine to start.
Press the electric PTO switch inward on the right, upper side of the dash. This disengages the blades. The mower will not start with blades turning.
Place the transmission lever in neutral. Automatic L120 models have the lever on the right side of the operator's seat and gear models that you shift by hand have the lever on the left side of the operator's seat. The mower will not start unless the transmission is in neutral.