Things You'll Need
Gardening gloves

Plastic container

Rake

Rolling nut picker-upper
Tip
Make a game of picking up sweet gum balls with your children by having a contest to see who can gather the most. Ensure they are wearing long pants, protective shoes and gloves.
During the holidays, have your kids paint and decorate dried sweet gum balls while wearing protective gloves. Thread a loop of fishing line through the ball to make a holiday ornament.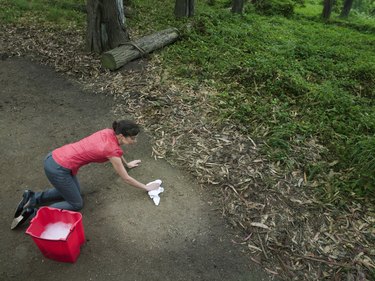 Sweet gum trees are native to southern Illinois, but can be found all over the United States. With its tall, straight stature, streak-patterned wood and glossy leaves that become vibrantly colorful in the fall, sweet gum trees are an attractive addition to any front yard. However, their beauty does not come without a price. The sticky balls that grow on the trees' branches eventually harden and fall to the ground between December and April. These brown, spiky balls are a hazard to anyone with bare feet, small children and animals. Maintain your yard by removing these ugly sweet gum balls.
Pick Up
Step 1
Pick up the sweet gum balls by hand while wearing a pair of gardening gloves. To make this job faster, have friends, family members and neighbors help you. Place the balls in a plastic container.
Step 2
Rake the sweet gum balls into a pile with a standard leaf rake. Put the spiny balls to good use by using them as a mulch to keep pests like slugs, snails and rabbits out of your garden.
Step 3
Roll over your lawn with a rolling nut picker-upper like the Nut Wizard or Pecan Picker Upper. These devices are typically made up of rounded cages attached to a long handle, so you do not have to bend over to pick up nuts or sweet gum balls from your lawn.
Reuse or Dispose
Step 1
Donate your sweet gum balls to fellow gardeners or crafty neighbors. Dried sweet gum balls can be used in craft projects like ornament making or home decorations.
Step 2
Burn the remaining unwanted sweet gum balls. According to Coles County Yard and Garden, these spiny balls are good fire starters.
Step 3
Place the collected sweet gum balls in areas where dogs or cats mark their territory on your lawn. This is a natural way to repel animals from marking.
---
Elizabeth Chaplin has been writing professionally since 2005 and has published articles with various websites. She has a Bachelor of Fine Arts in illustration and works as a graphic designer. Her experience also includes crafting, interior design and photography. Chaplin also created a natural beauty business in 2011, hand-making and selling organic, cruelty-free products for hair, skin and face.