Tip
Your bloom should last for about 2 weeks Place the vase in a cool room at nighttime or when you are away from home to prolong the blooming period.
Warning
You will need to discard the bulb once the bulb has been forced and the blooming period has ended, as it cannot bloom again.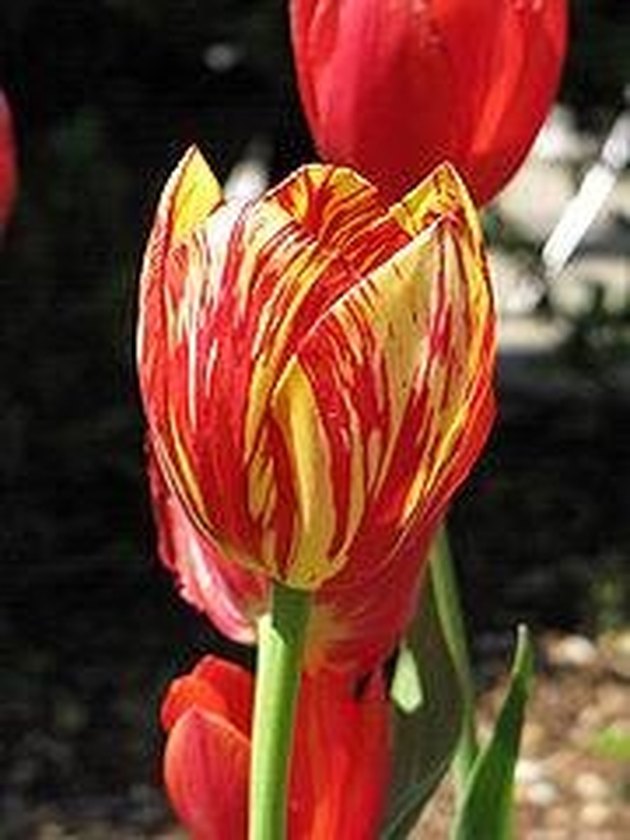 Tulips are one of the earlier flowers to bloom in the spring, but if you can't wait that long, you can force them to bloom indoors, so you can enjoy their color even in the wintertime. Although the usual method of forcing tulips involves planting them in clay pots, another method allows you to force a bloom right in a vase of water.
Step 1
Purchase a special forcing vase from a garden center, catalog or online hardening supply house. These vases are made of colored or clear glass and are specially shaped for allowing bulbs to be forced in water while not letting the water rot the bulb
Step 2
Fill the lower (narrow) part of the vase with water, and seat the bulb in the wider top part. Make sure the water comes to just below the bulb's base.
Step 3
Place the vase in a cool, dark area. You want the temperature in the forcing area to be around 50 degrees F, so you may need to do this in a basement or on an unheated enclosed porch.
Step 4
Replenish the water in the vase once a week. Make sure to check that the water is not touching the bottom of the bulb so it does not start to rot.
Step 5
Place the vase and the bulb in a bright, sunny window once the root system has established itself. The top of the bulb should be starting to grow a little bit at this time, and once your plant feels the sun, you'll soon see a bright, blooming tulip in all its glory.
---
Maria Scinto has been writing since 2004 on sports, nutrition, health, parenting, real estate, education and other topics for publications including "Northern Virginia Magazine," "Montgomery Gazette" and "Fairfax Times." She has coauthored two books, "The Takeout Cookbook" and "Savvy Convert's Guide to Choosing a Religion." She has a master's in library and information science from the University of Denver.